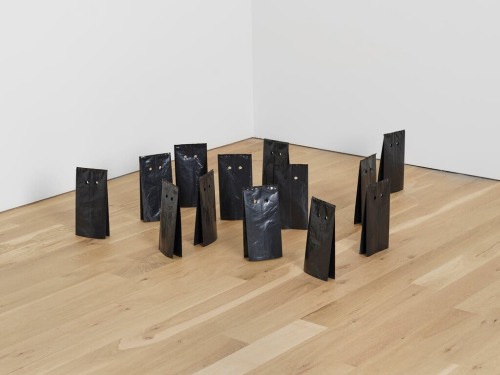 Lucia Nogueira Through Oct. 31. Online and at Luhring Augustine Tribeca, 17 White Street, Manhattan
It's understandable if the first exhibition at Luhring Augustine's new Tribeca branch is a little overfull. After all, Lucia Nogueira — who was born in Brazil in 1950 and made her art career in London before an untimely death, from cancer, in 1998 — had never had a solo show in the United States. Still, I might have left out a few sculptures and even the compelling little watercolors, because Nogueira's found objects operate with such mesmerizing élan that just two or three pieces could have held the whole room.
Thirteen stiff, black, rectangular bags she found at a gardening center came perforated with what looked like eyeholes; arranged in a corner as "Mask," they become a charming little coven of junior ghostlings. (Their presence turns the grounded electrical outlets behind them into faces, too.) Seven white trash can liners stretching out from the leg of a broken chair, in "Mischief," are a magical kind of shadow brighter than the object casting them.
Read full article at nytimes.com