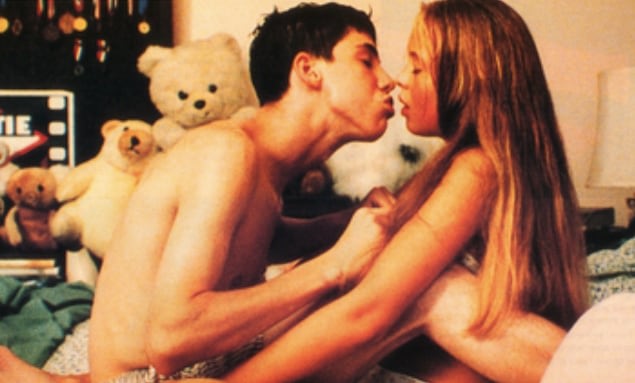 "I always wanted to make the teenage movie that America never made," says Larry Clark, and from the first frames of Kids, his forthcoming feature-length film about a day in the intertwined lives of a handful of New York street teens, you'll think he may have done it.
Kids opens on a next-to-naked teenage couple locked in a deep kiss, interrupted only by the young-looking seducer's insistent rap aimed at talking his even-younger-looking partner out of her virginity. Unnerving in its studied predatoriness, his coaxing prevails. A brutally-too-few moments after the slam-bam confirmation, Telly (Leo Fitzpatrick), a.k.a. "the Virgin Surgeon," hits the streets, high on his conquest and boasting of his taste for "little baby girls."
It's Telly's single-minded quest for virgin flesh that drives the narrative of Kids, which tracks him and his loose network of friends through 24 hours of roving exploits up and down the island of Manhattan. When Jenny (Chloe Sevigny), one of Telly's previous conquests, discovers she is HIV positive, and Telly's the only guy she's slept with, the film's inexorable logic is cemented. From here Kids unfolds with a race-against-the-clock urgency, as Jenny roams from haunt to haunt in a dazed quest to bring the bad news to the unsuspecting protagonist. Telly, true to character, is by now hot on the trail of an even younger prospect (played by the painfully fresh-faced Yakira Peguero).
Shot by cinematographer Eric Edwards of My Own Private Idaho fame (Gus Van Sant is Clark's executive producer), Kids feels like a documentary; the surprise is that it's scripted throughout (by Harmony Korine, a street-credentialed then-19-year-old whom Clark hooked up with in Washington Square Park). Much of Kids' considerable art, in fact, lies in the mesmerizingly vivid performances—are they acting or simply "hanging"?—that Clark coaxes from his largely unschooled actors.
Amid industry speculation as to how Clark's matter-of-fact depiction of teenage sexuality and drug use will play out with Disney, parent company for Kids' distributor, Miramax (Disney is fervently anti-NC-17, a rating Clark's film seems likely to receive), a midnight sneak preview at the Sundance Film Festival turned Kids into an instant cult classic. The buzz since then has steadily grown louder. Whether the movie opens in mid July, as Miramax promises, or becomes mired in a ratings dispute, Clark has more than matched the gritty intimacy he made his signature in his now-classic books of photographs, Tulsa, 1971, Teenage Lust, 1983, 1992, 1992, and The Perfect Childhood, 1993 (still unavailable in the U.S.). In fact, it seems he may have found in film his perfect vehicle.
Clark's photographic work numbers among its longtime fans the filmmaker Paul Schrader, whose scripts include Martin Scorsese's Taxi Driver, 1976, and Raging Bull, 1980. Schrader has also directed (as well as written) such movies as American Gigolo, 1980, and Light Sleeper, 1992. This March, he and Clark sat down at Schrader's New York office. They talked about Kids, and how Clark came to make it.
Read full article at artforum.com