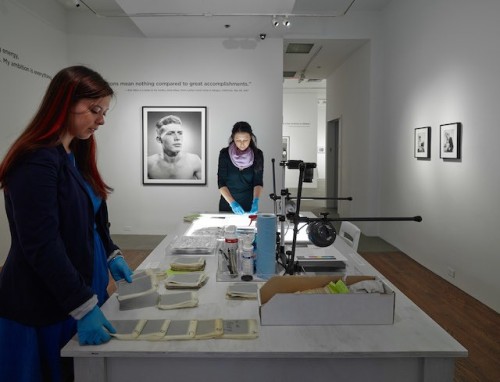 The art world's preoccupation with the archive is far from new. Conceptual artists appropriated the archive's bureaucratic aesthetic in the 1960s and '70s (aptly illustrated in last year's Materializing "Six Years": Lucy R. Lippard and the Emergence of Conceptual Art at the Brooklyn Museum). More recently, curators and critics have tended to describe all things traumatic, historical or memorial as "archival" (as in Okwui Enwezor's Archive Fever exhibition of 2008, which included Felix Gonzalez-Torres's "Death by Gun," Hans-Peter Feldmann's collection of 117 newspaper covers from September 12, 2001, and an Eyal Sivan video featuring Adolf Eichmann). But as an archivist at NYU's Fales Library, I've seen the mode of this preoccupation shift over the last few years, as artists and curators like Kugelberg engage more directly with the stuff of archives, rather than simply their aesthetic or symbolic aspects.
It's not unusual to see letters, sketches, or journals displayed alongside artworks in museums and galleries. Surveys of performance, like the Whitney's Rituals of Rented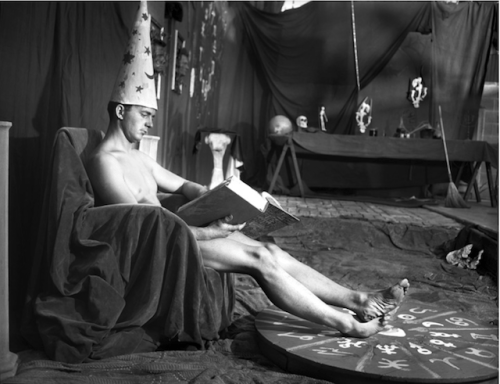 Island or the traveling exhibition Radical Presence: Black Performance in Contemporary Art, rely heavily on documents, often out of necessity. More interesting to me is to see artists adopting the archivist's selective role, exhibiting and re-presenting so-called "forgotten" archives.
....
These are some of the questions that the exhibition DEVOTION: Excavating Bob Mizer attempts to engage with directly. Currently on view at 80WSE Gallery, the ambitious show — the first under director Jonathan Berger's tenure — mines photographer Bob Mizer's massive personal collection of negatives, documents, props and costumes...
Forty-seven photographs have been selected and printed from Mizer's negatives for the show; they include some astonishing portraits and tableaux, often featuring costumes or DIY cinematic sets, that convey a deeply American form of tender campiness: a leather-jacketed "JD" unthreateningly poses with a switchblade; an apparently nude man in a wizard cap kicks back with a book in what looks to be a suburban garage draped with a little velvet and accented with some skulls.
But DEVOTION doesn't merely select from and re-present the archive through these photographs — like The Afrika Bambaataa Master of Records Vinyl Archive, it brings the actual archive into the gallery. Costumes and boxes of negatives shipped from California are displayed not as static objects but as items in flux, in the process of being archived. Students from NYU's Department of Art and Art Professions, recruited and trained by Mizer's archivist and by a professional costume conservator, itemize, re-house, scan and describe the archive during the gallery's open hours. Each day, they add some of the images they've discovered to those on display.
Read full article at hyperallergic.com