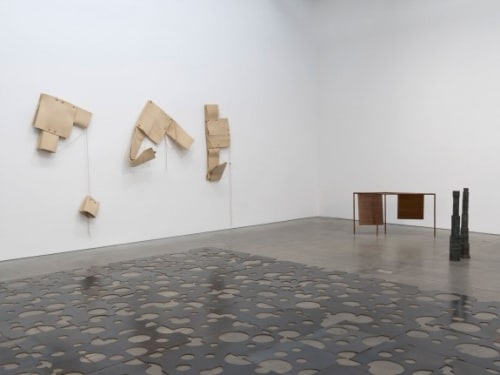 Despite its name, Empty House Casa Vazia is anything but vacant: it blooms like a veritable Garden of Neoconcrete Delights, affording the eye plentiful stimuli ranging from sleek to arch. The eighteen Brazilian artists who have hewn these peculiar treasures span generations, yet their works share certain mannerisms and makeup, as well as a common conceptual tongue. The copious objets in this amiable mélange are ruled by a lean aesthetic ethos that is equal parts simplicity, subjectivity, and strangeness. In total, the show is a tour de force, possessing a collective sharpness and authority that emphatically challenges the detachment of concrete art in general (and Donald Judd's insistence on the "obdurate identity of a material" in particular.)
In their 1959 manifesto, the vanguard artists who had denominated themselves as Neoconcrete made it quite clear that no principles stood higher on their hit list than rationalism or objectivity:
We do not conceive of a work of art as a "machine" or "object" but as a "quasi-corpus"; that is, a being whose reality is not exhausted by the external relationships of its elements; a being that can be deconstructed into parts for analysis but can only be fully understood through a direct, phenomenological approach. We believe that a work of art surpasses the material mechanism on which it rests, but not because it has an extraterrestrial quality: it surpasses it by transcending such mechanical relationships (which is the aim of Gestalt) and creates, in and of itself, a tacit meaning (Merleau-Ponty) that emerges for the first time.
Art, in essence, was imagined to have a life of its own, an implicit spirit that, although autonomous, could only be fully activated by human interaction. The many boxes, knots, shadows, cuts, and folds that comprise Empty House Casa Vazia embody this conviction to the utmost, with each piece itching, yearning, or questioning as much as any sentient being might. The sculptures request— and in most cases require— that the viewer walk around and experience them from multiple viewpoints, demanding we engage with them via intimate dialogues, numerous double takes, and more than a modicum of personal investment.
Read full article at brooklynrail.org