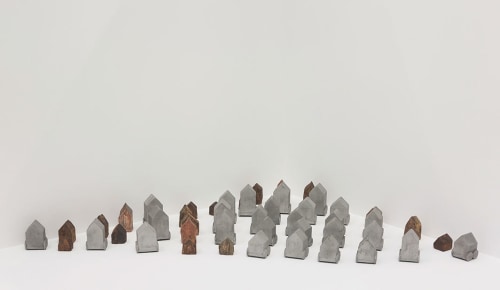 ONE MORNING this past spring, a small volume arrived in my mailbox. At first I was mystified by the unexpected gift. The book isn't a catalogue. It isn't a memoir. It isn't strictly prose. Nor is it wholly poetry. Across its ninety-seven pages, Directions to My House includes diaristic fragments, poems, family photographs, and reproductions of artworks. These scattered components, alternately deadpan and personal, add up to a provisional portrait of their elusive author: the "Indian" artist Zarina (surname: Hashmi—though she prefers to be known by her given name).
Zarina's book, written with Sarah Burney, contains information the intensely private artist has never revealed before: It tells us about her childhood in Aligarh (in Uttar Pradesh in northern India), where she was born in 1937; it records her marriage, at twenty-one, to an Indian diplomat, with whom she traveled the world (Bangkok, Tokyo, Paris, Bonn); it tells of her move to New York in 1976 (where she read Lucy Lippard, joined the Heresies collective, and co-organized an exhibition at A.I.R. Gallery with Ana Mendieta). We learn about her fascination with flying and her childhood love for her father's house on the Aligarh Muslim University campus. The book might be construed as a manifesto for her practice: The ideas of displacement, memory, mobility, and loss that weave throughout its pages are the leitmotifs of Zarina's oeuvre.
Zarina is best-known for her prints, especially woodblock, lithography, intaglio, and silk screen. But she also handcrafts sculptures in papier-mâché, metal, wood, and terra-cotta. Throughout her work, the subject of home is key, often dominating her titles. (Think of Father's House 1898–1994, 1994, a print depicting the floor plan of her childhood home, or Homes I Made/A Life in Nine Lines, 1997, a set of nine spare, shadowy prints that represent the homes Zarina occupied during her adult life.) But this home is never fixed—it is always on the move. Home retreats into memory; it changes with the cities she inhabits. Homes I Made, 1984–92, is a suite of tiny houses placed on a triangular white ledge. Either molded from terra-cotta or cast in aluminum and fitted with wheels, these objects are crudely fashioned—like a child's idea of "home"—and yet so fragile that they feel precious. Their minuscule, pointy forms recall both uninhabited houses and toy carts. Perhaps these mobile objects refer to migration, Zarina's own as well as the continual transit that iterates that condition we too glibly call the "global." The closer we look at the sculptures, the sadder they seem. Their aluminum bodies are not shiny, but dark. Their shapes recall tombstones. Is migration a living death? Is home forever lost to those who leave?
Read full article at artforum.com