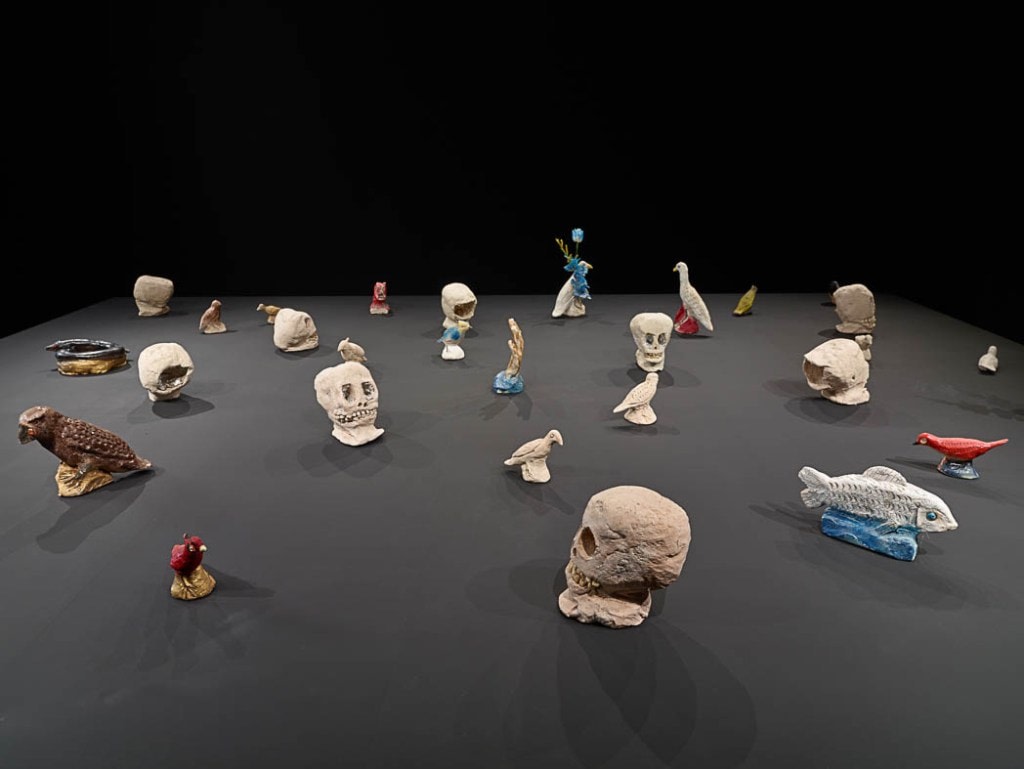 Son Ford was born with dying on his mind. Christened James Thomas in Eden, Mississippi, in 1926, he was given his nickname for the toy tractors he started making out of unfired clay around the age of eight — the same time he picked up a guitar and learned to play the Delta blues. As a young man, he sharecropped, and then worked as a gravedigger till his back gave out. And all along, he kept making busts of Abraham Lincoln to sell; blood-spattered, syphilitic-looking George Washingtons with dirty cotton wigs; a teeming multitude of real and imagined faces; at least one elegant self-portrait; and a number of extraordinary skulls, ghoulish and gaping medieval specters with real teeth and glittering tinfoil in their eye sockets.
About 100 of these pieces are on view at New York University's 80WSE Gallery. Gallery Director Jonathan Berger, who organized the show in collaboration with curatorial assistants Mary Beth Brown and Jessica Iannuzzi Garcia and six NYU curatorial praxis students, put a one-piece Califone record player playing "Highway 61 Blues" right by the door, with the eight-inch-high, untitled self-portrait bust right beside it, greeting the viewer with one synthetic black eyebrow raised to make clear exactly who's got a bead on whom.
Beginning with a bread-loaf-shaped chunk of clay, the artist captured himself with what looks like perfect transparency: you can't help imagining the thumbs pressing hollows into his cheeks or the fingers pulling out earflaps at the back. But, in fact, each cheek, if you count, is rendered twice — once in profile and once at the front. The knife-edge crease above the bone is as mannered and unreal as any figure of Max Beckmann's, and Thomas's light-brown skin color stops abruptly at his hairline. It's only the overriding expressive force of a singular nose, lips, watchful glass marble eyes, and a precisely jowly jawbone that force you, despite visual evidence to the contrary, to read him in the round.
Read full article at hyperallergic.com