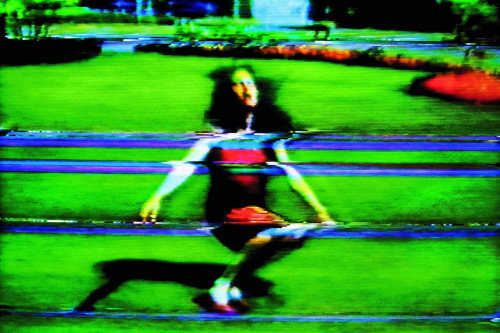 In a video projected on the front of the New Museum and visible from the street, the giant face and hands of the wide-eyed artist Pipilotti Rist appear smushed up against the glass, as though she is straining to break through the conventional rectangular video screen.
Inside, throughout her three-decade retrospective titled "Pixel Forest," opening on Wednesday, the Swiss artist does just that. Her brilliantly colored, kaleidoscopic video installations often seem to dissolve the boundaries between inner and outer worlds and continually play with the viewing position of visitors.
"Pipilotti is an artist who anticipated and rethinks the way we physically experience images, both collectively and privately, on big screens and on tiny monitors," said Massimiliano Gioni, artistic director of the New Museum and co-curator of this first New York survey of the pioneering video artist, who is based in Zurich.
For her new installation "4th Floor To Mildness," making its debut in the exhibition, viewers are invited to lie down on one of many beds scattered over the darkened fourth floor to watch a swirling, hypnotic mashup of vegetation and human body parts projected overhead on two monumental amorphous-shaped screens suspended horizontally from the ceiling.
Read full article at wsj.com