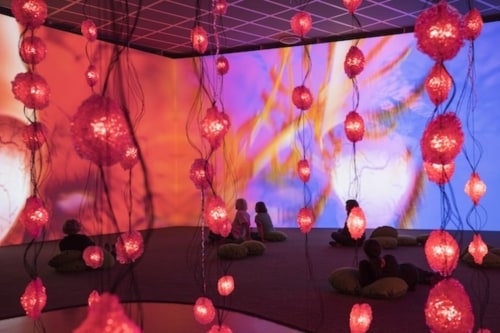 For three decades, Pipilotti Rist's videos and immersive installations have stretched both the technical means of their creation and the organic realm from which her forms emerge. Rist's art imaginatively upends our relationship to spectatorship and the natural world in playful, witty, and wry ways. From October 26, 2016 to January 15, 2017, Rist's retrospective "Pixel Forest" will envelop three floors and more of the New Museum. Here, she discusses her philosophy around exhibition installation and video projection.
WITH MY INSTALLATIONS, every room has different tasks, a special challenge. It's like fitting a costume to the room, and the person is sometimes bigger or smaller. In the end, the visitor should be the center. And what I'm doing is creating an environment for them. It's all about having them in the middle, helping them to come into a daydreaming state. I like to think of the projections as opening up or dissolving the walls.
One of the works I am most excited about in the retrospective is Pixel Forest, which is also the title of the show. You walk into a room that has a hanging LED light installation consisting of 3,000 LED lights, synchronized so that every pixel knows what to play, and all together gives one image. Pixel Forest is, in a way, reconciling daily and nightly lights with our synapses and inner feelings; I try to bring a poetic order. It's a very emotional, intuitive work that converges both the technological and the biological.
The high-ceilinged fourth floor will have 4th Floor to Mildness. Created in summer 2016, it consists of two upward projections on hanging suspended screens, eighteen beds, and music by Soap&Skin; people will lie in a communal sleeping room, looking up at the video. This is my favorite watching situation, and is a format I have used a few times, so visitors can reflect on how they perceive differently looking upwards, if gravity is not to be fought. At home, I have my TV on the ceiling, because I don't have to use my muscles to sit up, and I can relax my back. I hope it encourages the visitors to do that in their home too. It makes no sense to have it horizontal.
Read full article at artforum.com