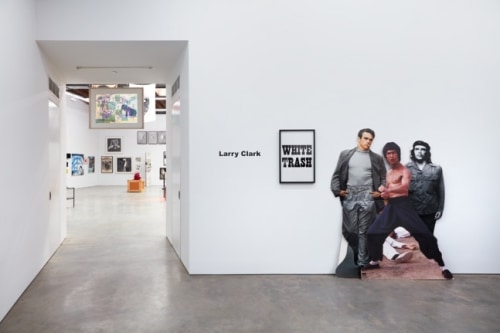 Most major New York City art galleries — almost all of them located in Chelsea or on the Lower East Side — open new shows on Thursday evenings. There's often free wine, and barely ever food. The only convention Larry Clark's recent reception remained faithful to was the 6-8 pm time frame. White Trash made its debut on a Friday evening at Luhring Augustine Gallery's Bushwick outpost, located on a stretch of Knickerbocker Avenue that scrap metal yards and concrete mixing companies call home. Budweiser was the beverage of choice, and food trucks were summoned to serve ice cream and Japanese tacos to gallery-goers. It seems the 74-year-old Clark is still having fun breaking the rules.
Like all the best shows, the most surprising, incendiary aspect of White Trash is the work it features. It's all Clark's, but he is not the author of most of it. Every piece has been culled from his personal art collection, amassed over the past 56 years. "Back in the day, when I had no money — nothing — I might see a painting and just had to have it. It was so difficult to get the money to buy it, but somehow I would." Often, he'd make swaps with other painters or photographers. Other times, "I'd borrow money and not pay the rent, or max out credit cards. When you're poor, they send you 12 credit cards a week." He says he didn't get one until he was almost 40.
Much of Clark's collection is Art with a capital A. He's got walls of Christopher Wools, Sue Williamses, and Andy Warhols. (Works by Jeff Koons, Helmut Newton, and David Wojnarowicz hang alongside them). There are also plenty of posters, for films like Panic in Needle Park and The Killing of a Chinese Bookie, and the L.A. punk band X. (Clark figures he's got enough of these for another full show. "Movie posters, ephemera, punk rock flyers. I have stacks and stacks in my studio and it's making me crazy!"). Still other works are more personal: the pale pink neon sign from one of Clark's favorite record shops, a Supreme skate deck featuring a photograph from his career-igniting series Tulsa, even the old fire door from his loft. "I never collected with value in mind; I never bought something I thought would go up in value," Clark says. "It's all works I had to have."
Read full article at i-d.vice.com