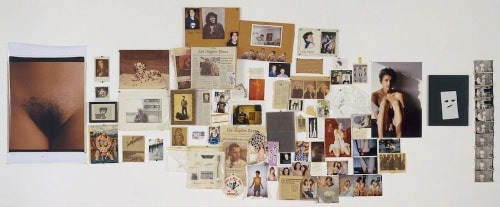 In 1995, Larry Clark cemented himself in America's filmic memory with Kids, a stark tale of sex-, drug-, and angst-fueled adolescence. But his candid approach—at times brutal, always unshrinking—extends far beyond his directorial mode. In 1961, the Tulsa, Oklahoma native began taking his "first serious photos" (according to Clark) in his hometown, and in the decades since he has continually expanded the margins in which he explores "youth culture." There's Teenage Lust, a bound collection of intimate, nearly pulsating black-and-white portraits; Tulsa, a disquieting set of images (also in book format) haunted by the looming specter of abuse; and most recently, his never before seen "Heroin" series, a set of visceral, abstract paintings.
"DTLA," the inaugural show at UTA Artist Space—presented in association with Luhring Augustine Gallery—recognizes each of these mediums and marks the largest display of Clark's work in Los Angeles to date. It's a fitting demonstration of the 73-year-old's oeuvre thus far, revealing seldom seen works (including Tulsa's 16-mm film counterpart) and new collages and paintings (such as the aforementioned "Heroin" works).
Days ahead of the show's opening last weekend, Clark spoke over the phone with actor and screenwriter Owen Wilson about Kids, learning how to skateboard at age 50, Tulsa, self-medicating with speed in his youth, and more.
Read full article at interviewmagazine.com