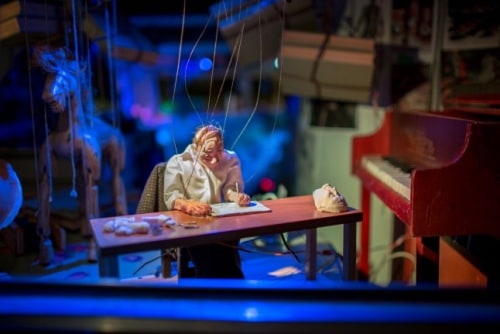 As the sounds of a storm fill the gallery, the illuminated caravan begins to clatter with life. Whisks spin in the sink, shoes stomp on the floor, a tiny piano plinks out light notes. Some uncanny marionettes dance and strum a guitar, while others that seem hastily globbed together from clay shiver on their strings. At one end of the trailer is a sleeping woman who looks not unlike artist Janet Cardiff, who, with her collaborator George Bures Miller, created this fusion of puppets and sound. Above and beside her, their strange creations seem to vie for her unconscious attention.
The Marionette Maker, now at Luhring Augustine, marks the American debut of the Canadian duo's 2014 artwork of the same name, originally commissioned by the Reina Sofia for the Palacio de Cristal in Madrid. While the white-walled gallery, even with the lights turned down, doesn't have much on the architectural ambience of that Spanish "Crystal Palace," even in Chelsea "The Marionette Maker" is a pop-up carnival of atmosphere. From the eyeless wooden horse careening wildly on its puppet hooves to the huge speakers eerily turning below a black umbrella atop the caravan, the installation is what it might look and sound like if David Lynch staged a Punch and Judy show.
The piece is joined at Luhring Augustine by Cardiff and Miller's "Experiment in F# Minor" (2013), in which speakers on a table are controlled by the shadows of visitors. Whereas "The Marionette Maker" is voyeuristic, "Experiment in F# Minor" requires some level of involvement: it's only activated when a passing person casts their silhouette over the sound array or lifts a hand (without touching, of course) above one of the speakers, each of which plays music in that ominous key of F# Minor.
Read full article at hyperallergic.com