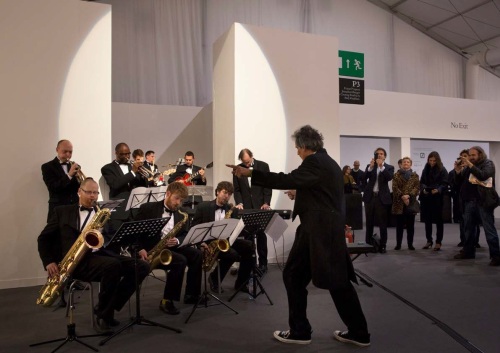 Should we see the late Andy Kaufman as something more than a simple comedian? Yes, says this Frieze artist
"Please, if you write one thing in this article, include this:" says the American artist Jonathan Berger, "Andy Kaufman didn't see himself as a comedian." Three decades after his death, this is still a challenging notion. Kaufman began his career in comedy clubs, and provided many of the laughs in the sitcom, Taxi, before succumbing to lung cancer in 1984 aged 35. Nonetheless, Berger regards Kaufman as an ambiguous figure, who used the freedom of New York's comedy circuit to experiment with the kind of challenging work we might associate today with performance art.
Yet, Berger's Frieze Project, On Creating Reality, by Andy Kaufman, isn't a straightforward redress. Instead, by displaying a collection of artefacts from Kaufman's life, inviting the late performer's friends and associates to act as exhibition guides, and by staging the orchestral overture from the star's 1979 Carnegie Hall concert each day at the far, Berger hopes to present an 'experimental biography', as quixotic and changeable as his subject.
Why is the show called On Creating Reality, by Andy Kaufman? Is role more curatorial? The name comes from a printers' proof for a lecture tour he planned to do just before he died. His girlfriend had saved it, and when I started putting this archive together, she passed it onto me. The thing that's interesting about this document is that it describes Kaufman's work as a project relating to "the dynamics of human behaviour". It's the first time that he suggests his performances were an intellectual project. When I started work on this exhibition, that title made a lot of sense to me. My role was an attempt to complete that project. That's the way I ended up thinking about it.
How does this exhibition fit in with the other work you produce as an artist? As an artist, I make objects and spaces and installations, and then there's also something else I do, which is sort of like experimental biography, in the form of an exhibition. I approach these projects as an artist; I'm not interested in the usual rules of curation. The subjects are usually someone I feel has been overlooked.
Read full article at phaidon.com