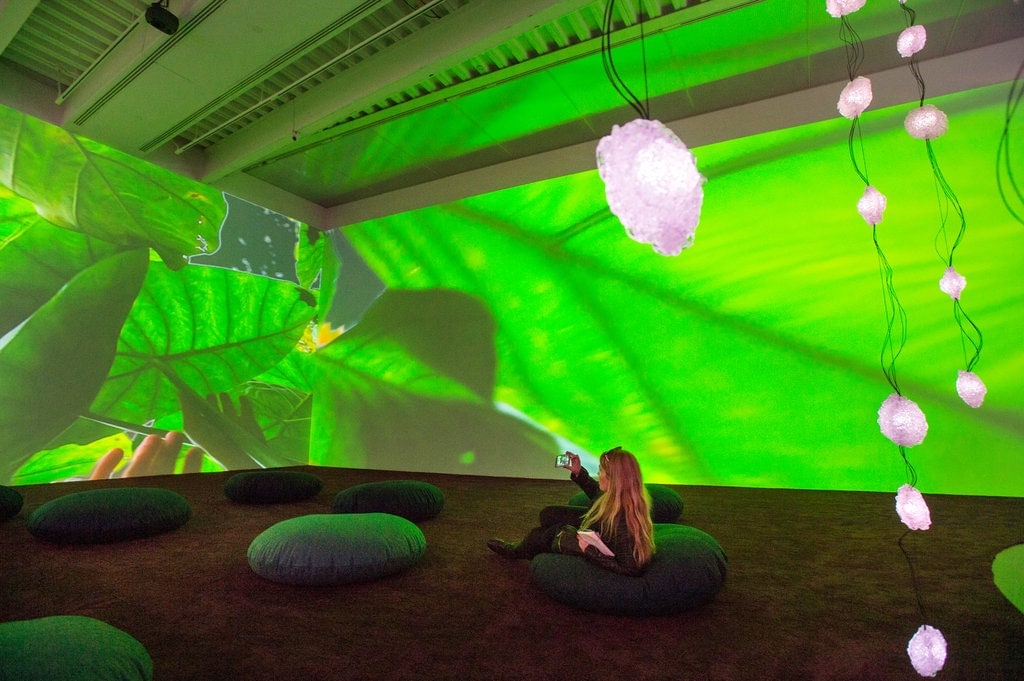 The Swiss artist Pipilotti Rist has gone supernova at the New Museum. A 30-year survey, "Pipilotti Rist: Pixel Forest," traces her ever-expanding journey into the wilds of video, with a rapturous fusion of lights, sights and music that ebbs and flows through the museum's main gallery floors.
It is also a journey into different kinds of intimacy — with ourselves, with one another and with nature. Naked bodies, and myriad plants and flowers, often seen under water and in immense close-up, drift and mingle amid kaleidoscopic color. And because Ms. Rist began making video in the long ago days of analog and has rarely met a technological breakthrough that she couldn't use, the 30-year arc of her work also traces much of the medium's progress, as explored by one of its true naturals.
Arranged mostly chronologically from the bottom to the top of the building, the show has been organized by Massimiliano Gioni, the museum's artistic director, with Margot Norton and Helga Christoffersen. Its 24 works begin with several single-channel videos from the late 1980s, when Ms. Rist more or less backed into art with the first work she ever exhibited. This is a 1986 video titled "I'm Not the Girl Who Misses Much," which is by now nearly canonical. The show culminates in two floors of aqueous, immersive environments, radiant with color, one completed this year. Sometimes comfortable seating — big pillows or actual beds — is provided for viewers to relax on while watching and listening, and perhaps leave with a sense of encountering nature as never before.
From the start, we see an artist who has effortlessly worked aspects of feminism, the body and performance art into her videos while giving moving images and music an organic unity rare in the art world.
Read full article at nytimes.com