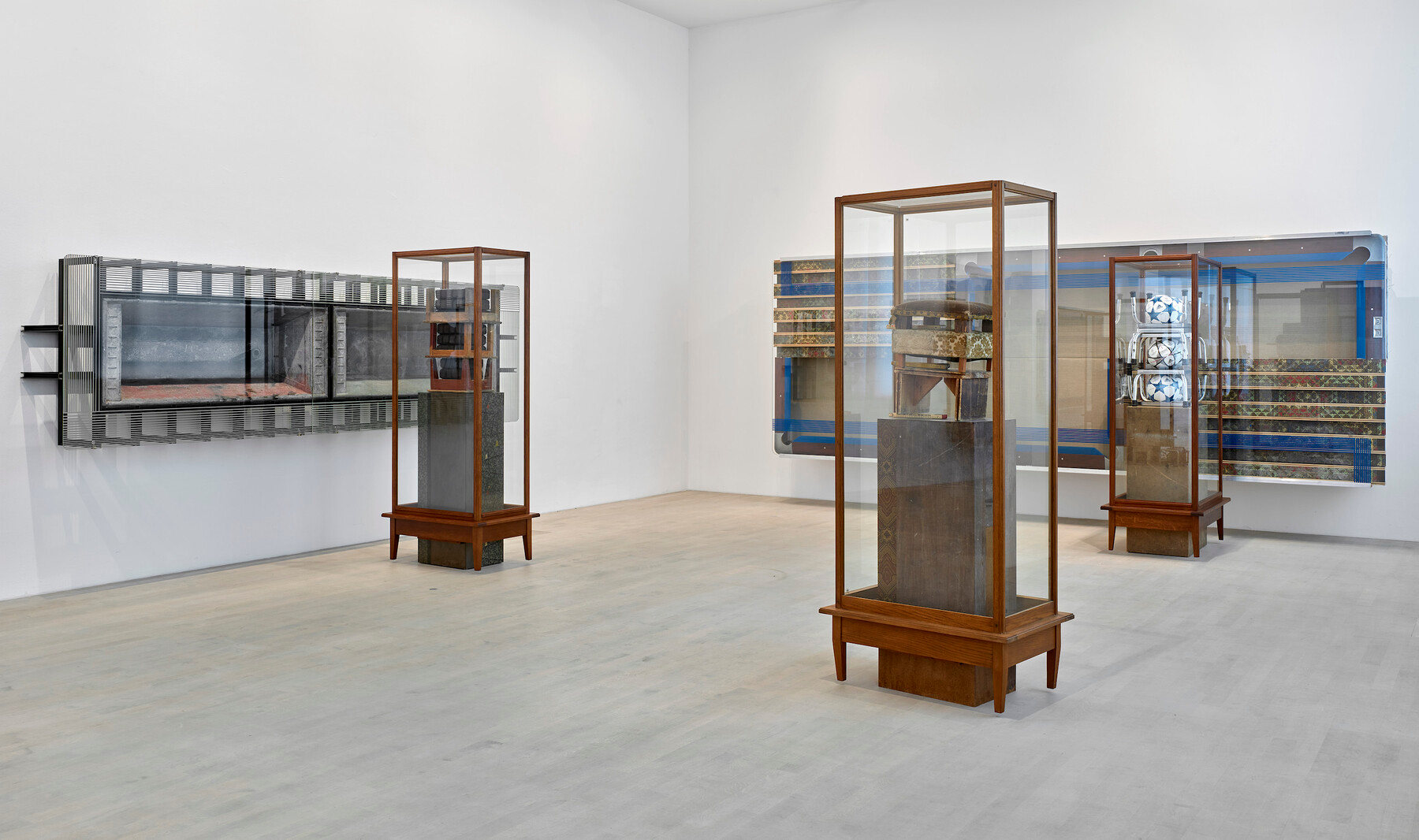 Kunstsammlung Nordrhein-Westfalen, Düsseldorf
September 3, 2022–May 7, 2023
For the last four decades, Reinhard Mucha has been making sculptures and installations that speak in the tongue of bureaucratic systems and engage a distinct object vocabulary. There are standardized furnishings of museum display and archiving (dark wood frames, felt linings, plate glass) but also behind-the-scenes elements of technical installation and found materials from the past. Elaborate wall-based sculptures are part display-case, part carefully crafted autonomous structure, revealing their workmanship with cross-section views. Rooms built within rooms provide extra spatial frames. There is something fetishistic in Mucha's reverence for these textures and his compulsive collecting and archiving of materials and documents, but his works pointedly question whether what to show is equal to how. These tendencies unfold to the full in this two-venue retrospective—the 72-year-old artist's first—in his hometown of Düsseldorf.
A single large hall on the ground floor of K20 brings together several significant installations, the centerpiece of which is Das Figur-Grund Problem in der Architektur des Barock (für dich allein bleibt nur das Grab) [The Figure-Ground Problem in Baroque Architecture (for you alone is only the grave)] (1985/2022). This virtuosic construction conjures a Ferris wheel and "wall of death" from shiny aluminum ladders, office chairs and tables, trussed together with tape and zip ties, held taut with metal cables, and lit with fluorescent strips. It is astounding that this baroque vision actually holds together, given its apparently provisional nature and the self-evidence of its constituent elements. Both playful and precise, it is a carnival of bureaucracy that keeps the whole and its parts in exquisite equilibrium.
Read full article at e-flux.com