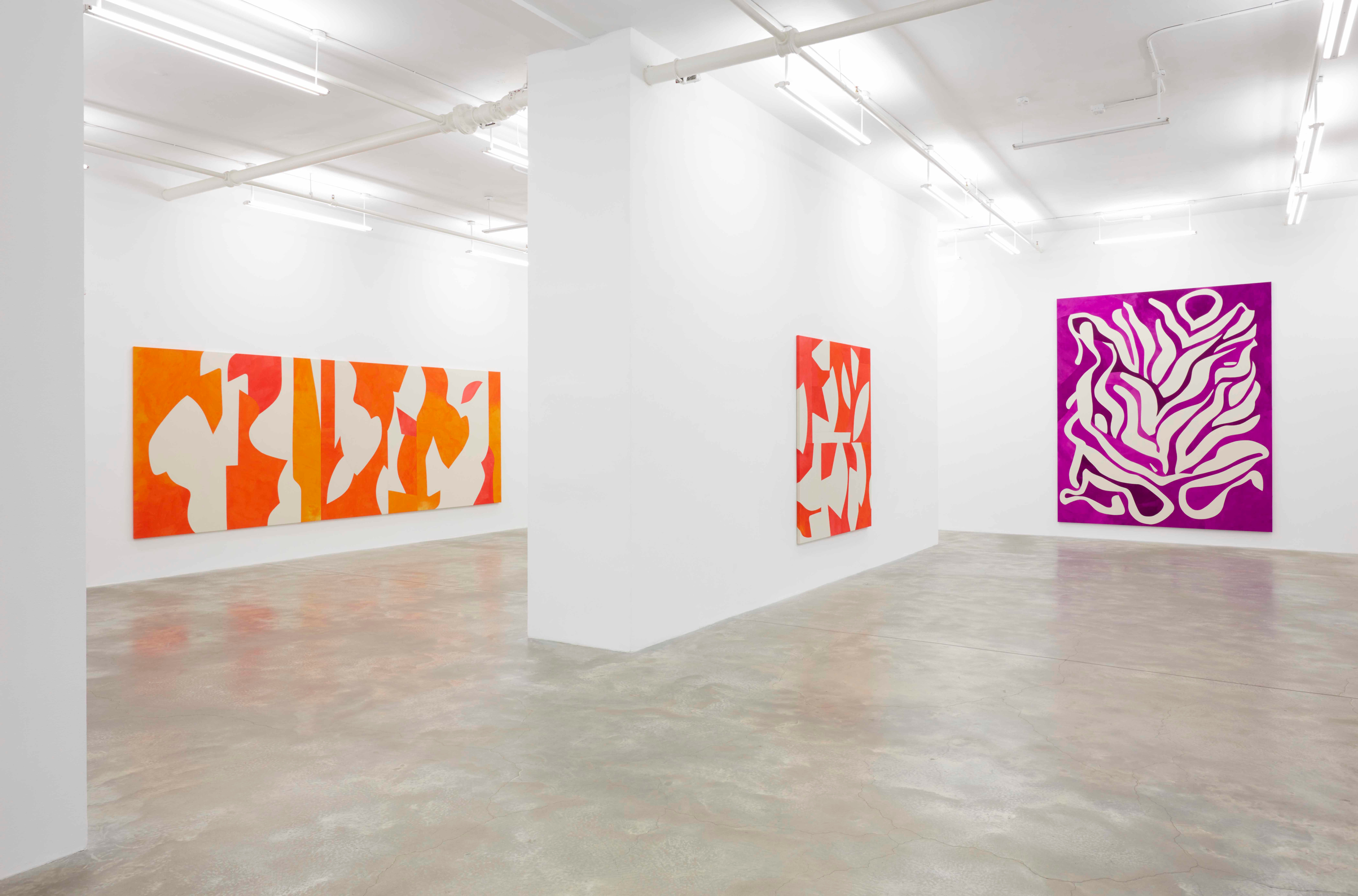 Sarah Crowner's large-scale paintings are carefully structured and absolutely mesmerizing. She has shown them in galleries, but has also used her technical capabilities to create paintings that function as backdrops for stage performances. On the occasion of Crowner's third solo show at Casey Kaplan gallery, the artist spoke with Rail Editor-at-Large, Tom McGlynn. Their discussion touches on the concept of "plastic memory," how time functions for paintings, the use of glazed tile, and how a painting is experienced differently when a performer activates the gallery. Their conversation was recorded on January 8 for the Rail's New Social Environment; it has been edited for precision and expanded for comprehensiveness.
Tom McGlynn (Rail): I first became familiar with your work, Sarah, at an artist's talk with Sam Moyer, Julia Rommel, N. Dash, and Erin Shirreff on the occasion of the show Painting/Object held at the FLAG Art Foundation in 2018. I was intrigued by your concept and process of painting and so welcome the opportunity to get to know your work more in depth here. In our initial discussion, I was fascinated by the fact that you mentioned your development being shaped by what you called "art-adjacent" influences; not necessarily painting alone. Would you mind recapitulating that for us here? The thought is fascinating, because everybody comes at painting from a different angle, and there are aspects of your approach which expand on painting's traditional potential. These earlier influences might help illuminate those. Maybe we could start there and then focus on your current exhibition, which opened at Casey Kaplan on October 29, 2020, and runs through January 16, 2021.
Sarah Crowner: During the period after graduate school, I was having a hard time finding my voice and finding meaning within the realm of painting. I had a small studio in the city, and while working different day jobs tried to paint in the evenings. I struggled, unable to make sense of the medium of painting—maybe, looking back, I was impatient with the slowness of oil on canvas. Also, I was missing a kind of tactility. At some point I decided to put "oil on canvas" aside for the moment and try a new medium—I was thinking about clay. And then Hunter College offered me a ceramics residency sometime around 2006. At the same time, I was going to the main New York Public Library a lot. I was looking at their image library, reading, and also going to the MoMA library, and other art museum libraries around the city. I discovered these incredible old art magazines from the early 1910s and 1920s that I could literally put my hands on, I could photocopy, scan, and examine. I wasn't sure what I was looking for, maybe inspiration, maybe an answer to the endless problems of painting!
Read full article at brooklynrail.org
Listen to the full conversation at Brooklyn Rail's New Social Environment series at brooklynrail.org