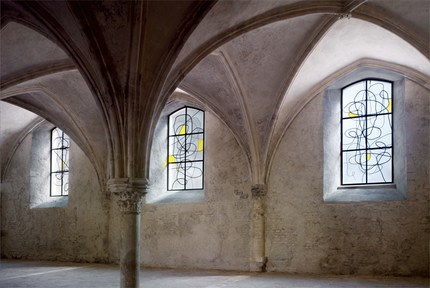 ON OCTOBER 25, a major retrospective of the work of CHRISTOPHER WOOL opened at the Solomon R. Guggenheim Museum in New York, the artist's most comprehensive exhibition to date. But just last year, Wool completed a much quieter and more unusual project: a series of stained-glass windows for a Romanesque chapel in France's Loire Valley. Artforum invited curator ANNE PONTÉGNIE, who helped commission the work, to reflect on the windows' luminous realization and their relation to Wool's oeuvre—in a context equally digital and archaic,painterly and crafted, earthly and divine.
CHRISTOPHER WOOL is not the first name that comes to mind for a church-window commission. Indeed, he is one of the few artists of his generation to have resolutely stayed in front of the earthbound plane of the easel: fighting, sweating, swearing, and bitching until he could find his own solution to the problem of what a painting—and an American, abstract one at that—can be today. He has become celebrated for infusing his abstraction with the rhythms and realities of our time, but also for stubbornly shutting out the very world whose spirit he is chasing.
So when Xavier Douroux, director of Le Consortium in Dijon, France, asked me if I thought Wool would be interested in making a series of windows for the chapel at La Charité-sur-Loire—a small town of medieval origin along the Loire River in southern France—I expressed serious doubt. The eleventh-century church is registered as a UNESCO world heritage site and was an important Cluniac center; the commission came under the auspices of the New Patrons, an innovative program that allows anyone to commission an artwork through a mediator. Douroux has, in Burgundy alone, overseen more than eighty such commissions. The process involves a long negotiation in which every participant—the commissioners, the municipality, the mediator, and the artist—has a say. Nothing could seem more different from Wool's intensely focused relationship with the canvas. Yet the complexities of this commission did not so much lie in social relations, but in the necessity to engage and address a material context ranging from late-Romanesque architecture to the textures of lead and glass.
Read full article at artforum.com