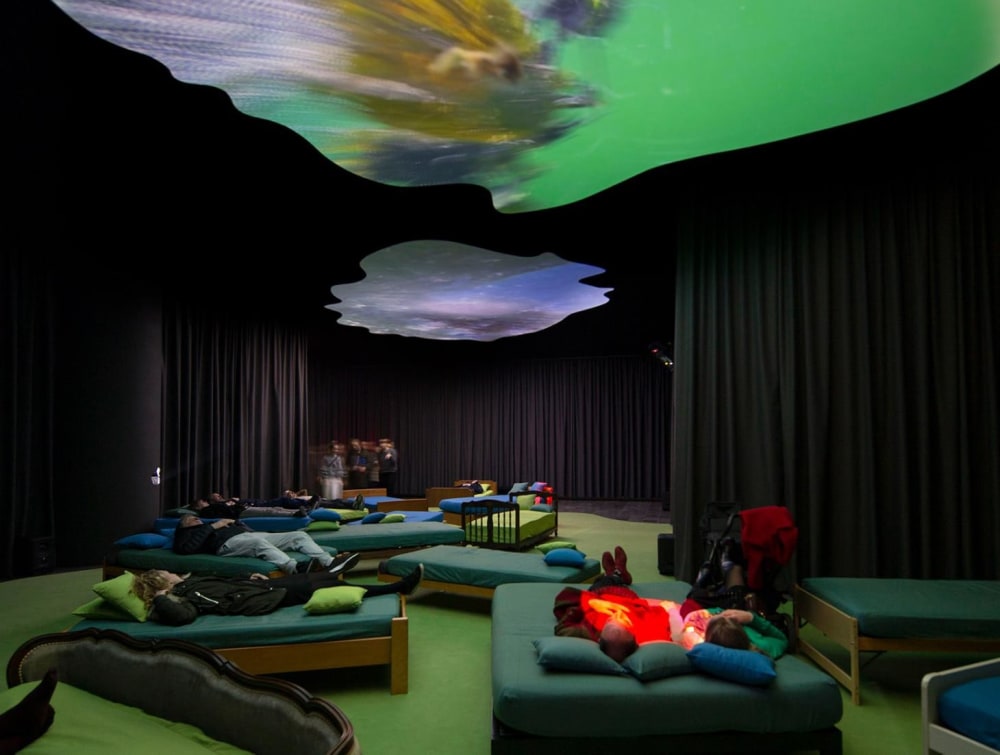 For her first major solo exhibition in Scandinavia, the Swiss artist transforms Denmark's Louisiana Museum of Modern Art with immersive installations, textile works, and radiant video projections designed as a homelike environment.
The work of Pipilotti Rist is imbued with idiosyncratic humour. That much is obvious from her pseudonym, a portmanteau of the Swedish children's book character Pippi Longstocking, as well as the Japanese electrician's jackets that she favours (she sports a canary yellow one as she tours us around her recent show), and of course, the now-iconic self portrait that shows her flattening her face against a pane of glass, her bright red lipstick smeared along one cheek. And true to form, her first solo exhibition in Scandinavia, titled 'Open My Glade', presents a brilliant bundle of eccentricities.
Taking place at Denmark's Louisiana Museum of Modern Art, which had been a nobleman's country house before its modernist additions and its transformation into a cultural hub, the exhibition feels eerily like home. Rist speaks of the museum as a 'collective living room', and has taken advantage of the museum's low-slung architecture and warm material palette to create an inviting environment, starting from the tactile fabrics that line the entrance hallway, to the soft furnishings that viewers are welcome to clamber over, all the way to the show's final room, which is quite literally presented as an apartment space, albeit overlaid with all manner of fantastic projections.
Read full article at wallpaper.com