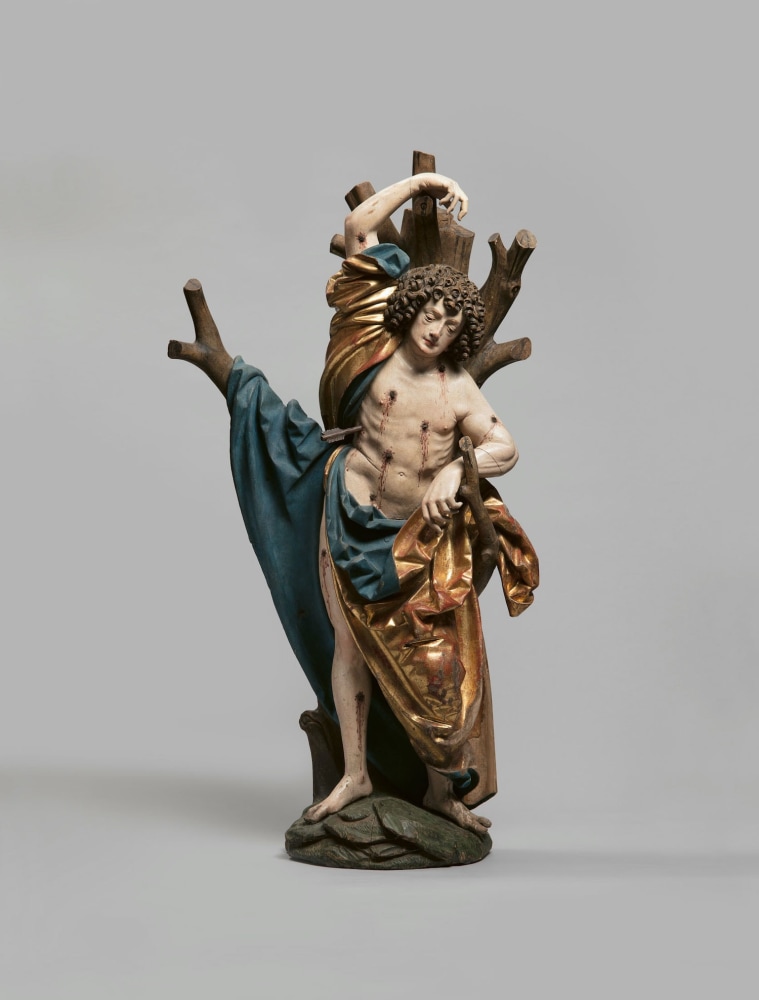 The third in a series of collaborative exhibitions between Luhring Augustine and Sam Fogg, The Medieval Body meditates on the interrelation between the heavenly and the corporeal. The exhibition includes sculptures, paintings, reliquaries, manuscripts, and adornments representing a thousand-year span of the Middle Ages (c. 540–1580 CE).
From sculptural figuration to the literal worship of saints' body parts as relics, to the eucharist, the transubstantiated body of Christ consumed by worshippers in the ritual of the Holy Communion, medieval artists centered the body. The visually stunning exhibition touches on all this terrain — striking a balance of gorgeous and gruesome.
For Catholic worshippers and theologians of that period (and for many into the present day), pain and torture provided a pathway to the divine. This is reflected in the face of Saint Quentin in the carved limestone sculpture "Saint Quentin being tormented" (c. 1420-30), unaffected and even serene as iron rods are hammered into his flesh. Jörg Lederer's "Saint Sebastian" (c. 1515-20) conflates bodily disfigurement and masculine beauty — the saint's limbs hang limp with the same grace as the lush blue and gold fabrics draped over his body, landing gently just above the groin. There's an ease and beauty to the figure despite his bloody wounds, and his peaceful face is framed by intricately carved ringlets of hair.
Read full article at hyperallergic.com