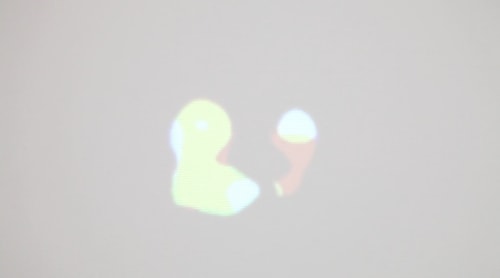 Tom Friedman
Through Oct. 28. Luhring Augustine, 531 West 24th Street, Manhattan; 212-206-9100, luhringaugustine.com.
Tom Friedman's effortlessly brilliant "Ghosts and UFOs: Projections for Well-Lit Spaces" covers all its formal bases. To put it another way, he uses the show's eight short animated loops, all of them projected onto the gallery's bright white walls, to make as many different jokes as their form allows.
In "Wall," a pale, greenish hand with glowing fingertips is inside a wall pushing out, as in a supernatural thriller. In "Pong," two unmoving paddles encapsulate the meaningless but addictive busywork of the digital age with an interminable game of catch. And in "Proteus," a few mutating colored blobs abstracted from Fred Astaire and Gene Kelly performing "The Babbitt and the Bromide" in "Ziegfeld Follies" make a gentle mockery of any attempt to read anything too clever into the work: The song, audible on portable headphones, is a satire of empty small talk that belies its own ostensible point by using its bubbly lyrics as a medium for rhythm, melody and mood.
View full article at nytimes.com