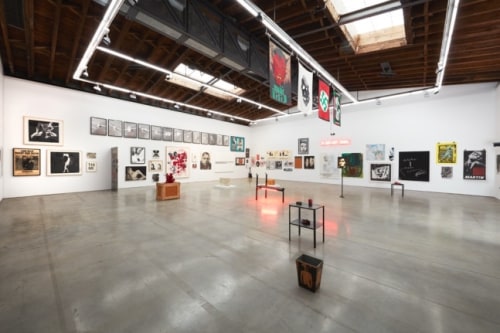 When photographer and film director Larry Clark published his first photobook in 1971, it wasn't Tulsa's frank depiction of drug-use, sexuality, and violence that caused a stir. Photography had long looked at the disaffected. It was the collapse of any objective distance. Clark wasn't an passive observer, he was one of them. (Clark also directed the controversial 1995 movie Kids, written by Harmony Korine.) Published with help from his friend Ralph Gibson, a former assistant to Dorothea Lange and Robert Frank, Tulsa instilled photography with a seedy intimacy a full fourteen years before Nan Goldin's A Ballad of Sexual Dependency.
There's a way in which Clark's private art collection, which began sometime in the 1960s, also reflects a deeply personal attachment to art and images. With most of the works currently on view at Luhring Augustine in Bushwick, Clark's collection encompasses works by friends who possess a similarly profane ethos—Mike Kelley, Richard Prince, and Christopher Wool—and young artists whose work exudes an irresistible vitality.
When Artspace's Will Fenstermaker spoke with Clark about his collection, the artist noted his is the kind of collection that would be difficult to assemble today without a readily available fortune. Many of the works were acquired through swaps. And yet, despite Clark's direct engagement with the artists he collects—and, in many cases, their collecting of Clark's own works—he resists speculating on any sort of philosophical exchange. The swaps were purely material. They're simply works he just had to have because they spoke to him in some way, or inspired him to make something of his own. It's never been about anything more than that.
Read full article at artspace.com