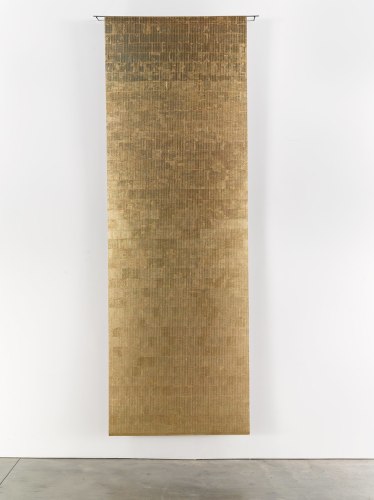 The serene, meditative volumes of Tadao Ando's Pulitzer Arts Foundation are the ideal setting for this retrospective, which explores Zarina's refined and restrained experiments with paper and printmaking and her meditations on the comforts and vicissitudes of home. The exhibition consists of a small but thoughtful selection of works spanning five decades, placed in dialogue with key art historical artifacts that have inspired her practice and presented across three thematically distinct galleries that alternate exquisitely with a concurrent presentation of Susan Philipsz's melancholic sound works.
Zarina's primary medium has long been printmaking. Here, a number of prints depict some of the many cities that the peripatetic artist has called home. The triptych Delhi (2000), for instance, consists of a map of the titular city's crisscrossing roads, an aerial view of a section of it, and an enigmatic riverine line. In Santa Cruz (1996), each of the five rectangular fields is bisected by a horizon – formed in the last panel by a line of Urdu poetry. The delicate precision of etching conveys subtly shifting qualities of light, presenting an abstracted sea view that is both atmospheric and existential.
Accompanying these are the earliest works in the show, a pair of relief prints (Untitled, 1969 and 1970) made using scraps of found wood, lightly inked so as to capture their grain and texture. For Untitled (1971), Zarina used twigs to create a dense field of vertical lines that suggest a bamboo thicket or sheets of rain, the latter echoed in the artist's personal print of Utagawa Hiroshige's Sudden Shower over Shin-Ōhashi Bridge and Atake (1857) displayed nearby. Delicate pin drawings from the late 1970s forego ink altogether, their countless perforations, structured by an invisible grid, drawing our attention to the physical qualities of the paper itself. All these works bear traces of Zarina's hand – sometimes subtle, other times expressive – revealing the effects that even slight variations in pressure, texture and surface can have on a print.
Read full article at frieze.com