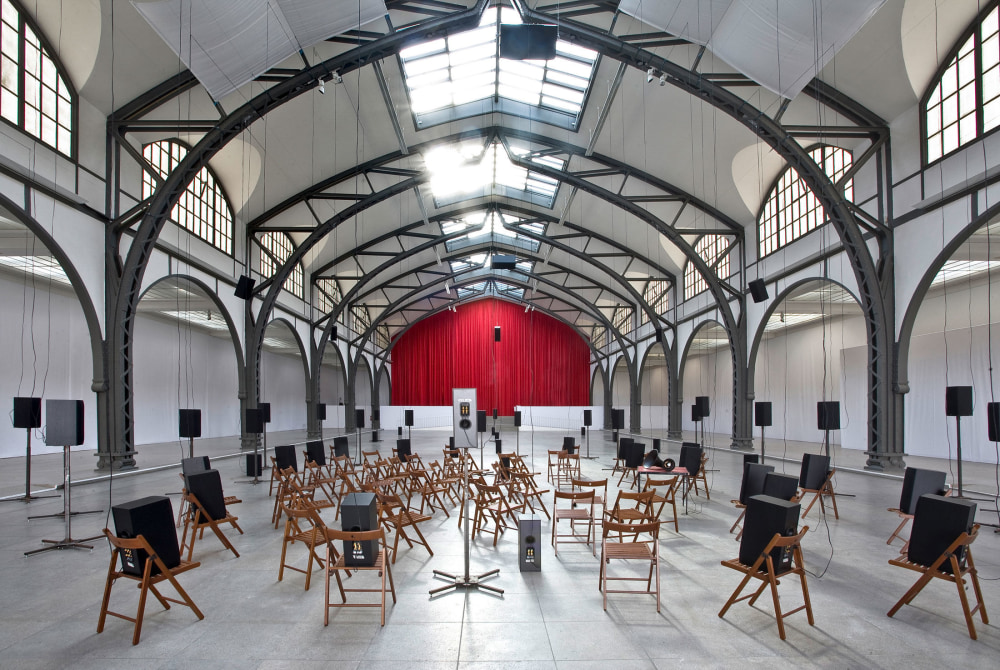 The Murder of Crows, a 2008 installation by Janet Cardiff and George Bures Miller, will be shown this February 17 through July 24 at TBA21 Thyssen-Bornemisza Art Contemporary in Madrid, Spain.
The Murder of Crows is a large 30-minute immersive sound installation by Janet Cardiff & George Bures Miller, originally commissioned by TBA21 in 2008 for the 16th Biennale of Sydney. It is here presented in collaboration with Matadero Madrid in celebration of TBA21's twentieth anniversary. The Murder of Crows is part of Cardiff and Miller's investigations into sculptural and physical sound, inspired in part by Francisco Goya's etching The Sleep of Reason Brings False Monsters. In the Goya etching, a man sleeps on his arms surrounded by flying owls and bats and a group of crows (called a murder), which are known to occasionally flock around one of their dead in a cawing "funeral" ceremony that can last for over 24 hours. The installation consists of ninety-eight audio speakers mounted on stands, chairs, and the walls, broadcasting a morphing electronic dreamscape.
For more information about the show, please visit the TBA21 Thyssen-Bornemisza Art Contemporary website here.