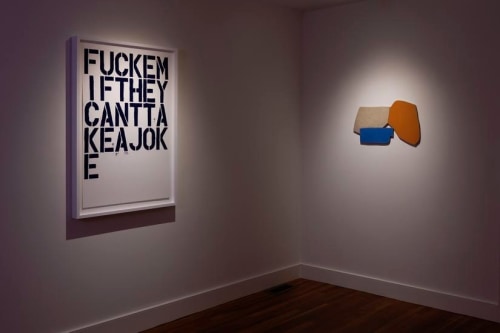 Christopher Wool is included in Deep Blue, an exhibition curated by American artist Katherine Bradford at the Hall Art Foundation. This group show examines "deep blue" both visually as a color, but also as a phrase that can describe more abstract concepts such as mood, the natural environment, music and even a region's political landscape. Over 70 paintings, sculptures, photographs, works on paper and videos by 70 artists from the Hall and Hall Art Foundation collections will be included.

Deep Blue includes works by Tommy the Animator, Richard Artschwager, Olivo Barbieri, Mark Barry, Jennifer Bartlett, Georg Baselitz, Larry Bell, Sadie Benning, Pat Berran, Norbert Bisky, Anna Bjerger, Ross Bleckner, Judy Chicago, Sarah Crowner, Raoul De Keyser, Richard Diebenkorn, Stan Douglas, Nicole Eisenman, Olafur Eliasson, Tracey Emin, Anoka Faruqee, Leon Golub, Ron Gorchov, Isca Greenfield-Sanders, Bendix Harms, Howard Hodgkin, Joerg Immendorff, Richard Jacobs, Neil Jenney, Donald Judd, Anish Kapoor, Yves Klein, Imi Knoebel, Barbara Kruger, Sadie Laska, Zilla Leutenegger, Florian Maier-Aichen, David Maisel, Martin Maloney, Chris Martin, John McCracken, Helmut Middendorf, Joan Mitchell, Malcolm Morley, Olivier Mosset, Alice Neel, Jim Nutt, Tony Oursler, Helen Pashgian, A.R. Penck, Raymond Pettibon, Francis Picabia, Paco Pomet, Jason Rhoades, Daniel Richter, Walter Robinson, Ed Ruscha, David Salle, Cinga Samson, Peter Saul, Dana Schutz, Nancy Spero, Elaine Sturtevant, Mika Tajima, Mickalene Thomas, Andy Warhol, Tom Wesselmann, Karl Wirsum, Christopher Wool and Heimo Zobernig.

For more information about the exhibition, please visit the Hall Art Foundation's website.