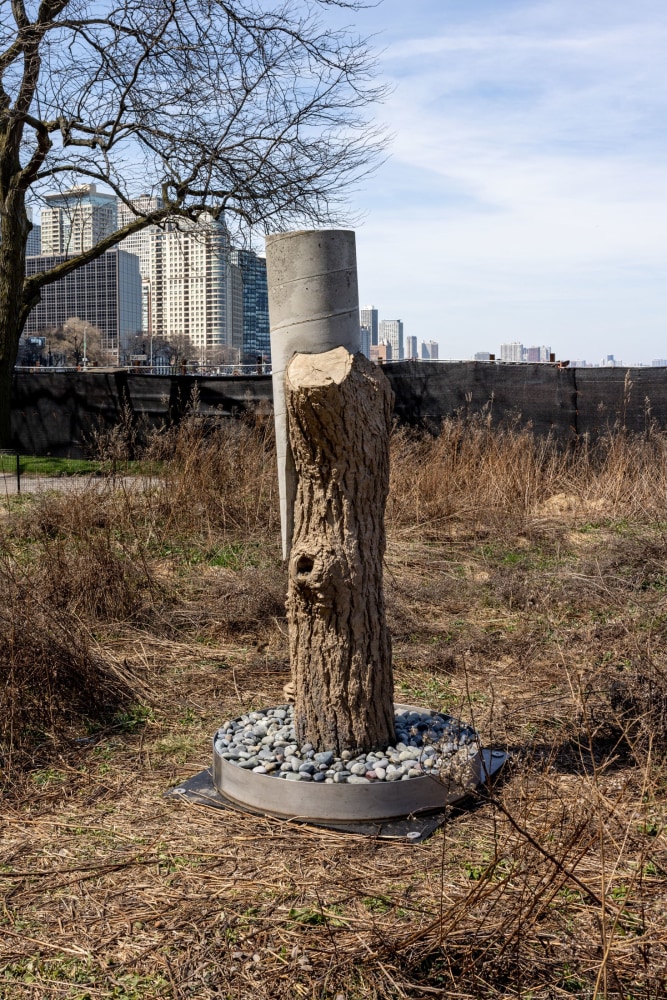 Luhring Augustine, in partnership with the Chicago Park District and EXPO CHICAGO, as part of the IN/SITU Outside program, is pleased to announce the public installation of Oscar Tuazon's Natural Man. Starting April 12, 2023, the sculpture will be presented in Jane Addams Park at 550 E. Grand Avenue in Chicago, IL, where it will remain on view for one year.
Tuazon's Natural Man is a functioning fountain cast in bronze and concrete from the trunk of a black walnut tree. The sculpture captures the tree at the moment the water flowing through it began to produce new growth; in this sense, it recalls Meret Oppenheim's magisterial Tower Fountain, an ecosystem embodied in one single sculpture. The maquette for this new edition work, that included the original black walnut wood from which the bronze was cast, was shown in the 2016 exhibition, Hammer Projects: Oscar Tuazon at the Hammer Museum, Los Angeles.
Oscar Tuazon (b. 1975, Seattle) lives and works in Los Angeles. A major mid-career retrospective of the artist's work, Oscar Tuazon: Building, is currently on view at Kunst Museum Winterthur through April 30, 2023. The exhibition was organized in collaboration with Bergen Kunsthall, which hosted Oscar Tuazon: Water School (January 27 – April 9, 2023), and the Kunsthalle Bielefeld, which will host an upcoming exhibition, Oscar Tuazon: All We Need (August 19 – November 12, 2023). A comprehensive monograph on the artist's work, Oscar Tuazon: Building, was jointly published by DoPe Press for all three exhibitions. Other recent solo shows include Oscar Tuazon: Fire Worship at the Aspen Art Museum; Oscar Tuazon: Collaborator at Bellevue Arts Museum; Oscar Tuazon: Water School at MSU Broad Museum. Tuazon was also recently included in the 2019 Chicago Architecture Biennial. He has been commissioned for numerous public art works including Growth Rings for Central Wharf Park in Boston in 2019; a large-scale installation Une colonne d'eau in the Place Vendôme, Paris in 2017; Burn the Formwork for Skulptur Projekte Münster, Germany in 2017; and Un pont sans fin for Nouveaux Commanditaires, Belfort, France in 2016.