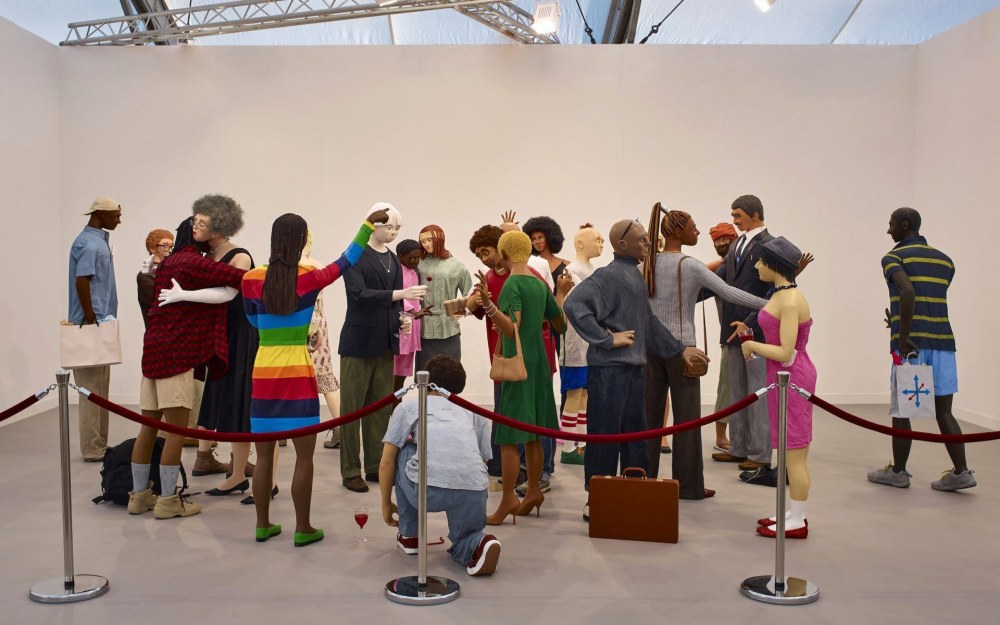 Tom Friedman's Cocktail Party
Stephen Friedman Gallery and Luhring Augustine
Recreating a typical art gallery opening reception, Tom Friedman's 2015 installation Cocktail Party constructs a cartoon version of the art world with his masterful handling of Styrofoam, clay and paint figures clothed and accessorized to resemble artists, gallerists, critics, and collectors. A lively array of 26 life-size characters greet one another, converse, and snap cell-phone photos while drinking champagne and scarfing down hor d'oeuvres behind a velvet rope. Sporting offbeat hairstyles and colorful outfits—humorously including a pair of painterly pants—the crowd carries on and the viewers, positioned as mere spectators, observe from afar with a fear of missing out on Friedman's fun. Exhibited for the first time in the States, the work made its debut in 2015 at Frieze London, where it was reportedly being offered for one million pounds. The ironic installation seems destined to become an Instagram hit in Miami Beach, the art world's favorite party town.
View full article at galeriemagazine.com