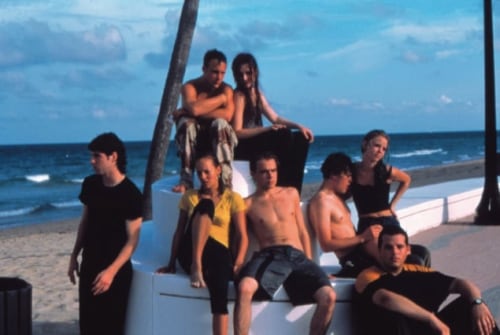 In 2001, the director of 'Kids' released a misunderstood cult classic. Here, Clark, his cast and creative team reflect upon its making.
This piece is comprised of conversations conducted with members of Bully's cast and crew individually, that have been condensed and edited together for clarity.
In the summer of 2000, on the eve of production for Larry Clark's movie Bully, the movie's lead actor, teen heartthrob Brad Renfro, climbed out of the window of his Fort Lauderdale motel room to go party with the locals. When the cast and crew arrived to set the next morning, Renfro was nowhere to be seen.
"He got fucked up and stole a yacht," Larry Clark recollects, speaking via phone from his Paris apartment. A drunk Renfro had managed to hot wire the stolen vessel, but forgot to untie it. When he accelerated the engine, the yacht bashed up against the dock. The owners called the police, who arrested him. "I got him out of jail and took him straight to set, where he had a scene to do, and he just did it," says Clark. "And it was great."
Bully, Clark's adaptation of the best-selling true crime novel of the same name by Jim Schutze, was filmed on a shoestring budget in just 23 days. The movie, which depicts the murder of adolescent Bobby Kent at the hands of seven of his peers, including childhood best friend Marty Puccio, was shot at many of the locations where the real-life incidents occurred. But it was mired in production trouble from the onset. Several drafts of the screenplay had been written, all of which Clark tore up in favour of shooting straight from the book, which featured real court testimonies and first-hand accounts of the murder.
Twenty years ago, Clark -- with a small crew and a pool of young Hollywood's rising, risen, and about-to-fall -- spent just over three feverish weeks filming what would become the iconoclast's definitive treatise on adolescent apathy and angst. Against a backdrop of sex, drugs, and Dr. Dre, this was the making of Bully.
Read full article at i-D.vice.com