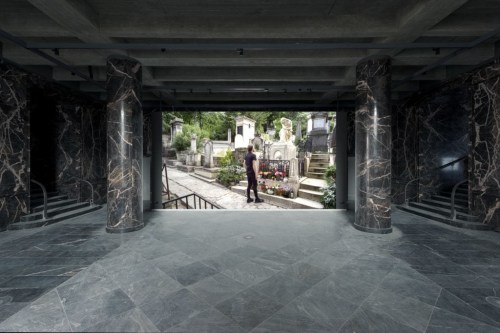 No task seems too difficult for triathlete, composer, and visual artist.
Guido van der Werve is lying under what looks like an old chess board built into a table. Sliding out from under it like a car mechanic, the artist clarifies that it's a "chess-piano," an invention of his.
The concept for this device sounds simple enough. As a player moves his or her chess pieces, a mechanism below plays each move as a sound, creating a musical composition according to the game sequence. On the underside of the table, there is an impossibly complicated network of handcrafted wooden sticks, springs, glue, and metal brackets.
"It's a little bit tricky to play because you have to read sheet music and chess moves at the same time," says the Dutch artist, who writes the chess moves for himself and his opponent that create the musical piece. And there's another thing that makes it tricky: it constantly needs painstaking re-tuning. The beautiful and fragile instrument does not travel well, though he has played chess-scores with it all over the world.
But for the artist, the fact that a task is difficult is never reason not to do it. Beyond being an accomplished musician and visual artist, he is also a triathlete and marathon runner. He has combined those skills to create epic performances that are recorded in painstakingly made films. Often, he is the only subject, and the scenes can be drawn-out affairs that require immense pre–planning because they are dangerous or require incredible endurance. For Nummer veertien, home (2012), he was filmed on a 1,000-mile triathlon from the Warsaw church where Chopin's heart is interred to the composer's grave in Paris.
Read full article at artnet.com