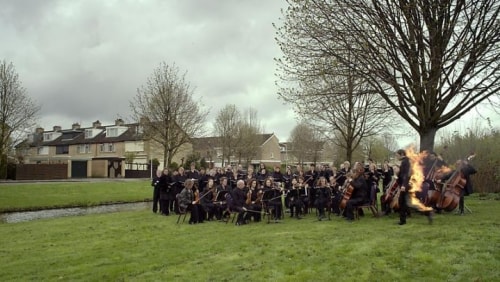 When I called the artist Guido van der Werve last year to arrange a meeting, Pauline Portrait, his studio manager, told me he was recovering from a serious bicycle accident. I met with Van der Werve some months later in his studio in Prenzlauerberg, Berlin, and talked about his work as a film-maker, and the aftermath of the accident. It had been a close call – doctors said it was only his very strong constitution, built up through marathons and triathlons, that had got him through. You could say he had been saved by art.
For more than a decade Van der Werve, now 40, has been making films based on extreme physical endurance and skill, involving climbing, cycling, swimming and running. He combines these with music that he composes, and often performs, paying tribute to the Romantic composers he admires. He is by his own admission a romantic, but a rather mad one, undercutting the existential seriousness of his work with an offbeat humour often veering into absurdity.
We sit around a computer screen and watch one of his first films, Nummer Twee, Just Because I'm Standing Here Doesn't Mean I Want To (all his works are numbered in Dutch and subtitled in English), made in 2003 while he was a student at the Gerrit Rietveld Academie in Amsterdam. It shows Van der Werve walking backwards into the suburban street in front of his childhood home, before being knocked down with some force by a car. Ballerinas appear from the back of a police van and dance around his inert body to Corelli's Christmas Concerto.
Read full article at theguardian.com