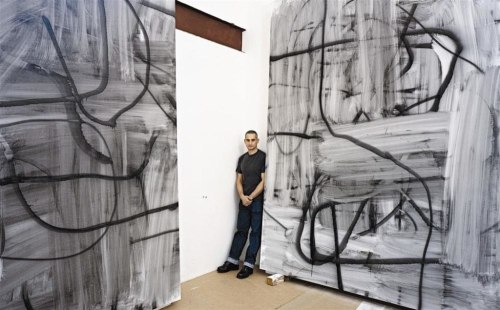 Christopher Wool is widely recognized as one of the world's most important painters. His first one-man show was at the legendary Cable Gallery in 1984, and since then, he has showed his bold word paintings; edgy, energetic pattern paintings; and revolutionary, quietly startling manipulated abstract paintings in galleries and museums around the world. Richard Hell was one of the originators of punk music. He played in the first wave of bands that brought attention to CBGB and became famous in 1977 as the auteur of the album Blank Generation. He retired from music in 1984 and built a reputation as a writer to rival the one he made as a musician. His most recent novel is Godlike. Richard and Christopher have now collaborated on a series of word images. Glenn O'Brien, who goes way back with both of them, met the pair at Wool's studio on the far Lower East Side of Manhattan to discuss this. PSYCHOPTS is a book of 57 pictures by Wool and Hell, published by JMc & GHB Editions this month. Publication coincides with an exhibition of a portfolio of nine silk screens of these images, along with six collaborative drawings, at John McWhinnie @ Glenn Horowitz Bookseller and Art Gallery in New York City (johnmcwhinnie.com). Christopher Wool will show new work at Luhring Augustine in New York City, May 10-June 14.
Glenn O'Brien: How do you know each other?
Christopher Wool: You want to tell?
Richard Hell: We first got acquainted when Christopher called me up about using some words. This was 1997 or 1998. He wanted to ask my permission to use the words that I'd written on my chest on the cover of my Blank Generation album, as the text for a word painting. Which of course he didn't have to do. I mean, that was really courteous. It's not like I own those words.
CW: I have taken things and made paintings without having permission. But in this case, I wouldn't. Oh, and then it turned out I missed something when I painted Richard's words.
RH: I went over to Christopher's and saw his painting. On the original album cover I'm standing there holding my jacket open, and I don't have a shirt on underneath. And in Magic Marker I have across my chest, in all caps: YOU MAKE ME ____. It was just a blank. An underscore. Anyway, when I saw the painting, Christopher had filled up its entire surface with "YOU" on top of "MAKE" on top of "ME." And I said, "Wait a minute. Where's the 'blank'?" And he said, "Well, how about I just leave a space at the bottom?" Which is what he did. There's an empty line below the last word. So it worked out great. I was impressed by how casually he was willing to make what seemed like a major change. It seemed gallant. And like . . . self-confident, and suave. The guy was a gentleman and an artist.
Read full article at interviewmagazine.com