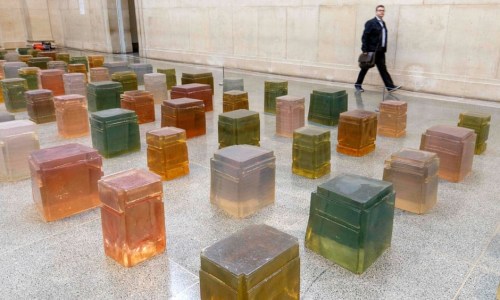 Tate Britain, London
What's under the bed and in the wardrobe? Who's on the stair and what's going on in the shed? Rachel Whiteread's sculpture is both deadpan and affecting. It can be modest in scale and homely, grand and austere, mischievous, menacing. Her art is filled with safe spaces and frightening places, mystery and memories. All this from an artist who, since the late 1980s, has been almost entirely devoted to the making of casts. From filling a rubber hot-water bottle with liquid plaster and using it as a mould, Whiteread has gone on to cast sinks and baths and mattresses, the interior of a room in north London, then an entire East End house slated for demolition. She has cast library shelves and even one of New York's ubiquitous rooftop water tanks. Looking up, the translucent cast of the tank's interior presented a solidified, glinting void against the sky.
Some of her more recent casts of cabins and sheds have been permanently located in out-of-the way places, to be discovered by chance (just imagining them baking in the Mojave desert, or getting soaked in rainswept Norway, is itself a pleasure). Whiteread refers to some of her recent works as "shy sculptures". Throughout her career, she has shuttled between complexity and simplicity, and between the small and close at hand, to fragments of the larger world – the vacant plinth on Trafalgar Square, a stairwell, a cast of the meeting room in Broadcasting House that inspired George Orwell's Room 101, which is now installed in Whiteread's complex and rewarding show at Tate Britain.
The false walls in the main temporary exhibition galleries have been removed – to my memory, for the first time – leaving one enormous, open space. At first, it feels like a warehouse, filled with objects that you have to walk among and between. We are also walking through a career and a life, making our way as we will. But individual works soon take hold, and the proximities of her sculptures play off against one another and the exhibition space itself.
Read full article at theguardian.com