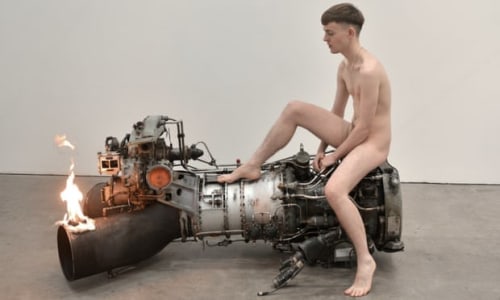 Ikon Gallery, Birmingham
The artist known for his crystal-filled council flat returns with a show where youth and decay are locked in heartstopping struggle
There are three naked young men in Roger Hiorns' Ikon Gallery show. One sits on an overturned x-ray machine. Sometimes he moves over to a jet engine parked on the floor nearby. I imagine the feel of cold metal against his skin. The wall label reads "Military jet engine, fire, antidepressants, youth." The fire had not been lit on my visit. The antidepressants are in the engine, rather than the young man. Don't ask me why.
A second engine, and several other works in the show, also include "brain matter". So, of course, do the youths. And so, reputedly, do I. Hiorns has even mixed the brain matter into a slurry with binder, and made paintings with it. His use of this disquieting material stems from his interest in the so-called "mad cow disease" of the 1980s and 90s, whose effects are still with us. The cause and spread of BSE, and the fatal variant Creutzfeldt-Jakob disease that contaminated humans, became the subject of a long series of documentary works that Hiorns showed in the Hayward's History Is Now exhibition last year.
Another young man lounges on a beach of crushed granite that was once a church altar, now spread unevenly over the floor. This is a great image – a tableau-vivant of live flesh and atomised stone. It is strange how quiet and reserved it is, with the daylight shafting in. I think of a statue come to life, resting on the remnants of its pulverised plinth. The chants of Evensong leak in from a room beyond, where a video plays an event Hiorns organised at Birmingham's Anglican cathedral last summer. The choristers and choirmaster, all in their robes, are on their backs, lying on the floor in the body of the church, staring up into the void as they sing. It is startling, an absurd and marvellous displacement.
Read full article at theguardian.com