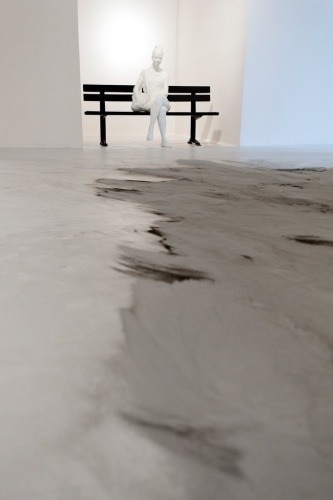 Many people assured us that we would never forget, and they were right. The attacks of Sept. 11 were the most extensively witnessed and recorded events in history, a spectacle, as the hijackers intended. The towers exploding against the crystalline blue sky, the white dust cascading, the panicked office workers — these are all seared in collective memory.
But in New York City right now it is possible to choose among several very different ways to remember. The exhibitions mounted to commemorate Sept. 11 and its fitful, excruciating aftermath vary tremendously in scope and effect. Three in particular — at the School of Visual Arts, the International Center of Photography and MoMA PS1 — form an unexpectedly illuminating progression.
***
"September 11," which opens Sunday at MoMA PS1, is much more about art than about documentation. More than two-thirds of the 68 works in the show were made before the attacks, and only a few that came after refer to it explicitly. If the other shows push us to face death, this one, which has been organized by PS1's curator, Peter Eleey, reveals tragedy as one of art's inevitable undercurrents, even when we don't quite realize it.
***
Mr. Eleey has arranged the show with lapidary precision and enough space to create an implicitly contemplative environment. This is not to say that the artworks don't interact, sometimes with more power than they might have on their own.
The exhibition's center is a large gallery with a George Segal cast-plaster sculpture of a woman seated on a bench; she seems to gaze at a mass of gritty black and silver powder on the floor, swept-up debris that also suggests a Japanese rock garden. A scatter piece by the British artist Roger Hiorns, it is the atomized engine of a passenger airliner. The symbiosis is effectively disrupted by hollow, blustery background music that turns out to be the theme from the 2000 movie "The Patriot," composed by John Williams.
Read full article at nytimes.com