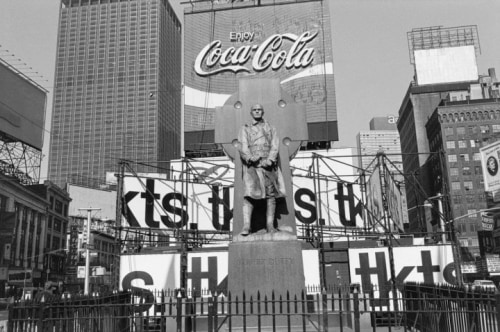 As public symbols of civic virtue and regional pride, the formal and iconographic range of monuments, memorials, and other commemorative statuary in American culture is truly astounding. Two hundred thirteen of them, shot over a period of 12 years, are represented by the photographer Lee Friedlander in The American Monument, originally published by the Eakins Press in 1976. This magnificent book's much-anticipated second edition is now being distributed, and its arrival coincides with the opening skirmishes in what promises to be an extended battle over control of the historical narratives that our public spaces are commandeered to perpetuate.
Friedlander's brilliant strategy — consistent with his propensity for "an excess of fact" — is to include within the photograph not only the monument itself but also a significant part its immediate surroundings (and sometimes, depending on the photographer's proximity to it, more distant features of the landscape). In a few cases, the ostensible subject is visually incidental to the composition or even partially obscured. This emphasis is crucial, because Friedlander's larger subject is the dynamic relationship between the monument (in its apparent permanence) and its location, its physical context — which continually changes, whether gradually or swiftly, to reflect the community's values.
Epitomizing this approach is "Father Duffy. Times Square, New York, New York" (1974). An Army chaplain in World War I, Duffy served in a regiment made up largely of New York Irish-Americans. (His peacetime parish was just around the corner on 42nd Street.) Duffy's bronze likeness — in boots and trench coat, Bible in hand — is besieged by the visual tumult of billboards, scaffolding, and spliced-and-diced "tkts" logos. The culture at large might venerate consumerism more loudly than it does religion or public service, but it has the decency to allow local heroes at least a bit of space.
View full article at hyperallergic.com