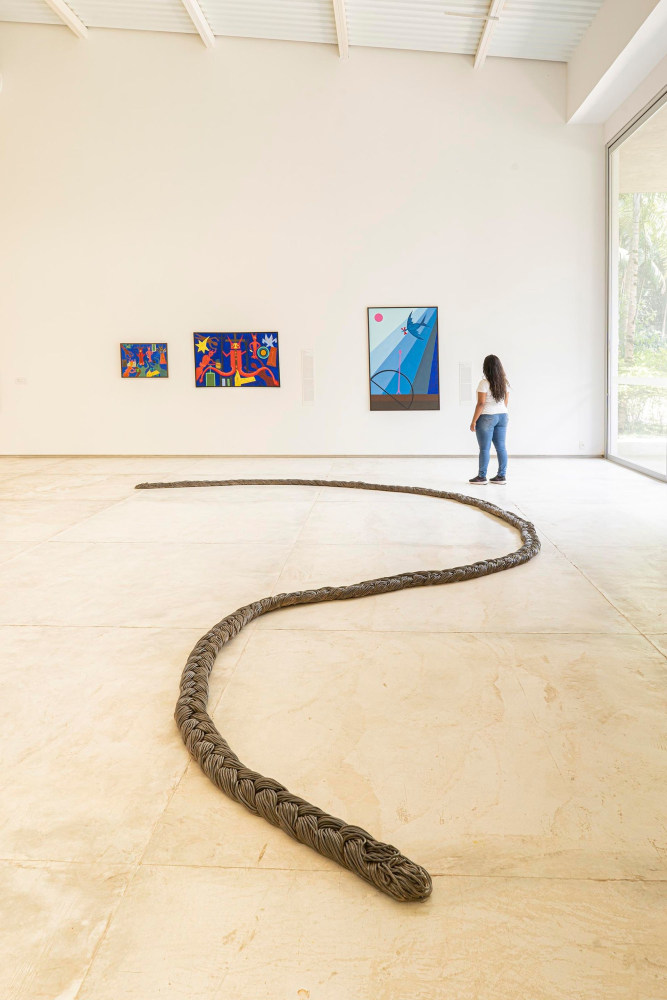 Ten years after the death of renowned Afro-Brazilian artist, activist, scholar and poet Abdias Nascimento (1914-2011), a two-year project will bring his legacy to Brazil's most popular contemporary sculpture park. The collaboration will introduce the Museu de Arte Negra (Black Art Museum) to a wider public and expand on Nascimento's legacy.
"Abdias Nascimento and Black Art Museum" is a joint project between Institute Inhotim and the Institute for Afro-Brazilian Research and Studies (IPEAFRO). "There was no unilateral decision, but a consensus between the two institutions," says Douglas de Freitas, curator of Inhotim. Beginning this month and through December 2023, the Black Art Museum (which ultimately hopes to secure a permanent home) will reside within Inhotim's gallery spaces, with a series of exhibitions divided into four acts.
The collaboration opened with the Abdias Nascimento, Tunga and the Black Art Museum, which presents a dialogue between Nascimento and his longtime friend, the late Brazilian sculptor Tunga. "The idea in this first act is to explore the Black Art Museum and Nascimento's work through Tunga, who is an extremely important artist in Inhotim's collection," de Freitas says. "Abdias Nascimento was longtime friends with the poet Gerardo Mello Mourão, Tunga's father, and Tunga grew up in contact with Nascimento and his work."
Paintings, photographs, drawings, prints and installations are being exhibited in the shows "in addition to a rich collection of documents that tells parts of Brazilian culture, with Black people as protagonists," says Deri Andrade, Inhotim's assistant curator. The first act is an overview of the aesthetic and thematic connections between Tunga's and Nascimento's work, the second and third acts will be expansive presentations of the Black Art Museum's collection and the fourth act will be a comprehensive exhibition focused on Nascimento's work.
Read full article at theartnewspaper.com