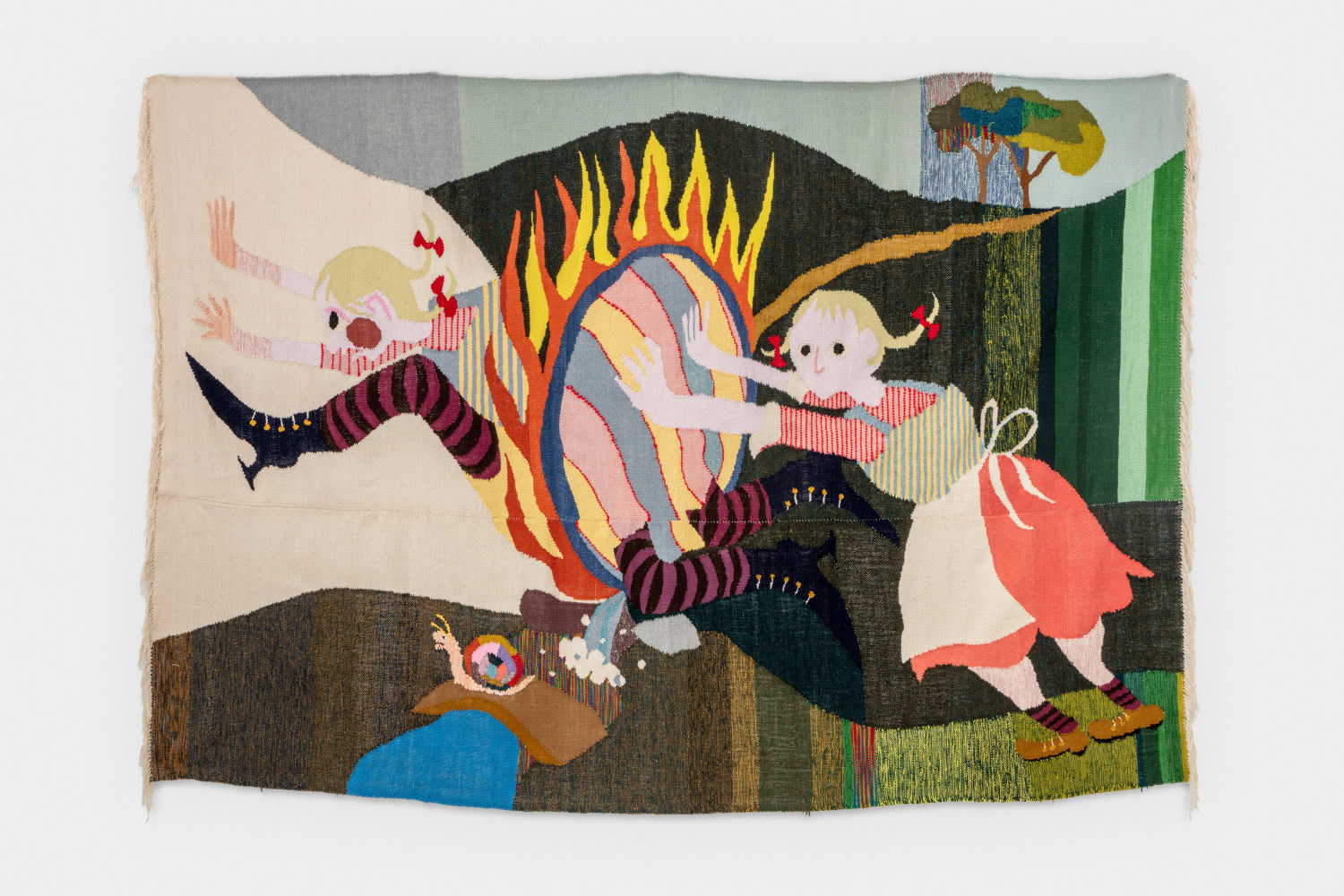 Los Angeles-based artist Christina Forrer's weavings and drawings, on view at Luhring Augustine through Oct. 29, express relatable anxieties and fears through a childlike lens of the world.
Known for creating fantastical art that expresses chaos and evokes powerful emotions, Swiss-born and Los Angeles-based artist Christina Forrer is hosting her second solo exhibition at Luhring Augustine Gallery in Tribeca through Oct. 29.
Just from the street view of the gallery, the bright colors of Forrer's weavings jump out from the windows. "Turnip Growing" and "Elephant on Chair," both Boschian-inspired weavings, greet the viewer from the wall opposite the door and windows.
Both textiles incorporate bright color blocks and caricature-inspired characters, including a purple bearded elephant sitting in a lounge chair with a girl hanging off its trunk. "Turnip Growing" includes worms, a knife-wielding man, a detached bloody foot, and most importantly, a turnip growing out of the ground. Turnips, presumably a symbol of Forrer's fears, manifest themselves as an essential motif of her art throughout various pieces.
--
Forrer's art magnetically pulls visitors into the gallery. While her drawings are displayed inside glass cases throughout the main showroom, the curatorial choice to hang the weavings around the perimeter of the room enhances the exhibit's dynamism and creates a story.
Her work is emotionally striking, using conflict to cathect visitors and reflect on the challenges of everyday life. This chaos is expressed through common childhood fears, which make the walk around the gallery an immersive and cathartic experience.
Read full article at nyunews.com