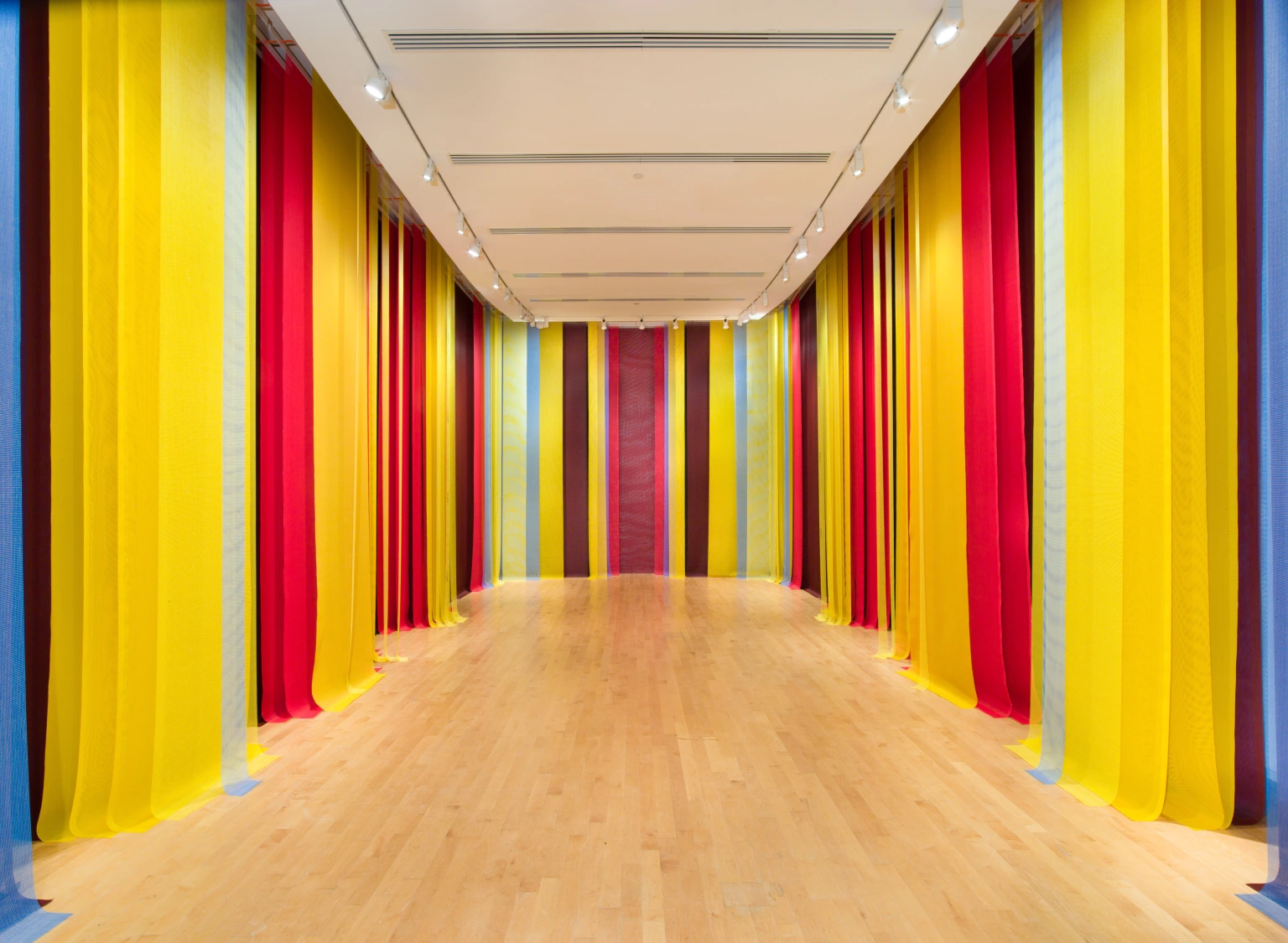 Experiencing the artist Eva LeWitt's new installation is a bit like how one would imagine it might feel to walk into a color-field painting. Now on view at the Aldrich Museum in Ridgefield, Connecticut, the colorful, enveloping new work marks the artist's first ever solo museum presentation.
As a child, Eva LeWitt spent a lot of time hanging around in her father's studio—a formidable art education, considering she is the offspring of Conceptual pioneer Sol LeWitt. Though some have placed her work in the context of her his, with this show it's easy to see how the younger LeWitt has carved out a space for herself and her own unique practice in the contemporary art world.
Rather than working with traditional sculptural materials, the artist opts for ones used in everyday objects: plastic, latex, rubber and polyurethane. Their malleable, lightweight qualities are easily-manipulated to fill the spaces in which she is intervening. Senior curator at the Aldrich, Amy Smith-Stewart was taken with LeWitt's work for this reason, drawing a parallel with the work of Eva Hesse, as they both share a "kinship with minimalism" and something of a sensual quality.
Smith-Stewart says when she first came across LeWitt's installation at Frieze in 2017 the term "eccentric abstraction" came to mind, a description first used by the art critic Lucy Lippard to describe the work of Eva Hesse. Both artists "inserted a softness that animated material in unexpected ways," Smith-Stewart told Observer, "manipulating and transforming rigid and industrial properties to become more bodily and performative."At the Aldrich, suspended drapes of colorful, layered mesh line the walls of the gallery harmoniously. Made primarily of mesh, the installation washes onlookers in vivid color, while the screen door-like cross-hatching of the material gives the room a light airiness. Here, LeWitt presents an experimentation with materials by coating it over vinyl and fiberglass. Appropriately, it is entitled Untitled (Mesh A–J), and it's her largest site-specific installation to date.
Read full article at observer.com