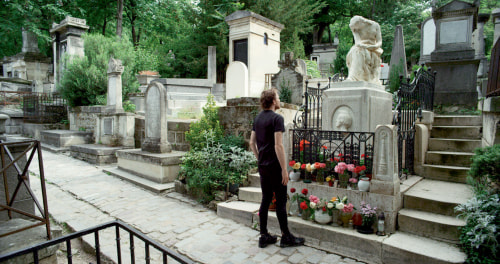 Over the past decade, Dutch artist Guido van der Werve has created a series of 35mm films and videos that pair classical musical arrangements-often by Chopin or Mozart, and, lately, by the artist himself—with feats of endurance. Recently, Luhring Augustine assembled a two-part survey of the 34-year-old artist's career, with works from 2003 to the present spread out over the gallery's two locations, in Chelsea and Bushwick.
Shown in Chelsea, van der Werve's newest and most ambitious work, Nummer veertien, home (2012), is an hour-long HD film wherein a traditional requiem composed by the artist scores footage of his 1,000-mile triathlon from Warsaw to Paris. The film's conceit is based on a legend: Chopin supposedly carried a silver cup of dirt with him in his move from Poland to France, to remember his homeland. Now, for his journey, van der Werve sets out to bring a silver cup of dirt from Poland to Chopin's grave in Paris's Père Lachaise cemetery.
The film begins at the Holy Cross Church in Warsaw, where Chopin's heart-smuggled out of France and back to Poland by his sister-is interred. Van der Werve, looking pitifully amphibious in a head-to-toe wetsuit, sits at a piano, surrounded by a symphony orchestra playing the music for his first act, titled "I found sadness." The film goes on to feature Marathon Man-esque scenes of van der Werve swimming, running and biking-often looking like a dead ringer for the weary, thunder-thighed cyclist in The Triplets of Belleville. This narrative is complemented by the life story, told in subtitles, of Alexander the Great. Throughout the film, the artist includes madcap visual moments-errant explosions; an orchestra packed into a tiny home-drawing attention away from the spectacle of his increasing exhaustion. The final act, titled "I don't feel the pain anymore," shows the hobbled artist, moving with tentative strides, sweat staining his black shirt. At the cemetery, he sets down the silver cup, stands back for a moment, then reaches to straighten it ever so slightly. This syncopated gesture sets tender reality against the artist's superhuman strength of will.
Read full article at artnews.com