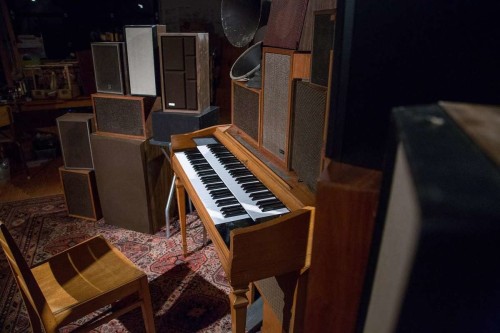 Critics rarely confess that their good and bad days, their shifting moods and personal challenges, necessarily affect their responses to art. But, of course, what any of us brings to a work is at least half our experience of it.
I visited Fraenkel Gallery this week to preview an exhibition of works by Janet Cardiff and George Bures Miller, artists known for intensely romantic applications of cold technology. I should have been better prepared.
Not 90 minutes had passed since I had learned of the sudden death of David Wiegand, my editor at The Chronicle. The one who hired me on faith and gradually became a trusted writing coach. The one barely a year older than I.
At the gallery, I was seated in a darkened room at a small organ and encouraged to press a key. The doleful voice of the late singer and poet Leonard Cohen issued from one of maybe 30 speakers piled on the instrument and arrayed about the room. Nothing could have better suited my mood.
Replacing musical notes, short recordings of Cohen reading poetry have been electronically mapped to the organ keys. As with any organ, the longer a key is depressed, the longer the passage plays. Multiple keys played all at once create overlapping sounds — chords of text, as read by the author, from his 2006 collection, "Book of Longing."
Read full article at sfchronicle.com