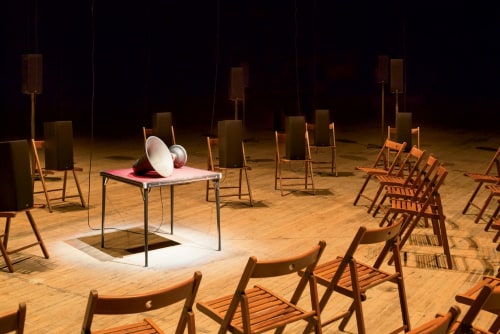 The Murder of Crows (2008), a 30-minute installation by Janet Cardiff and George Bures Miller, successfully filled the Park Avenue Armory's 55,000-square-foot drill hall with sound alone. While past artists' projects there have employed giant mounds of material or hulking machinery, Cardiff and Miller boldly left much of the space empty and in darkness. Commissioned by Thyssen-Bornemisza Art Contemporary, Vienna, and employing music by composers including Freida Abtan, Tilman Ritter and Titus Maderlechner, as well as by Miller, the piece delivered a sensual experience with relatively limited material means.
Atop a simple folding table at the hall's center rested an old-fashioned horn speaker directed toward rows of wooden chairs for visitors. Throughout the hall, 98 small loudspeakers stood on stands or chairs, or hung from the ceiling; all the speaker cables stretched upward, vanishing into the darkness.
Cardiff's voice came from the speaker horn, softly recounting three horrific dreams, marked by the typical abrupt shifts and inexplicable transformations. In the first of the recordings the artist made upon awakening, she finds herself in a blood-drenched factory where workers feed cats or babies into noisy machines. Accompanying Cardiff's voice is a gradually swelling beeping and mechanical hum, followed by spurting liquid and thudding footsteps. Machine noises crescendo, followed by the sounds of chanting men.
Read full article at artnews.com