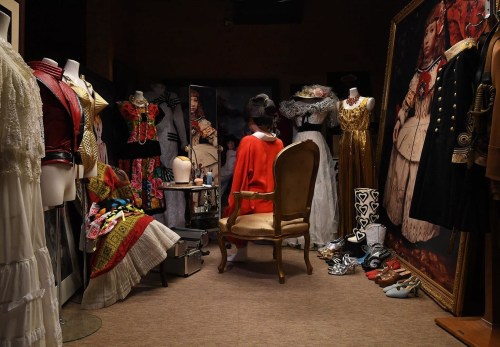 In Yasumasa Morimura's versions of Manet's glorious canonical nude Olympia, the artist gazes stoically back at the camera, a carefully placed-hand demurely concealing his modesty, kicking off a pair of pink backless mules – much in the manner of Victorine Meurent, who modelled Olympia for Manet in the 19th century, and provoked outrage for being depicted as a prostitute with apparently no shame about it.
In a new series on show at New York's Japan Society Gallery until January 2019, Morimura comes at Manet from a different angle: in art history, the naked male body, when it has been explored, has been western – the Grecian idyll of form. What makes a masterpiece, according to the history of art, has been defined by European men, for European men. Bodies like Morimura's have not been represented in western art.
'In the end, what is history?' The Japanese artist decries. 'And what is historical truth?' These are the questions that play out as we take a Morimura tour through the Masters of painting and the beginnings of western modernism: from a restaged Durer and Van Gogh to Frida Kahlo, Marilyn Monroe, and Marcel Duchamp, with Morimura playing the protagonist – questioning his own position as an artist, and his relationship to these works, as an Asian man.
Read full article at wallpaper.com