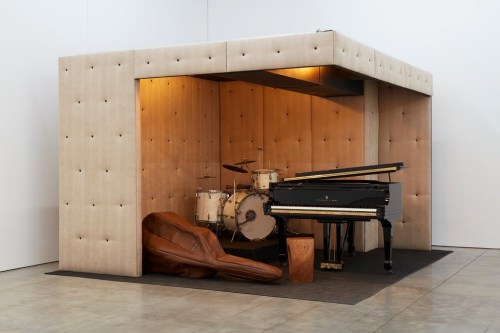 Jason Moran has spent his career pushing jazz into contact with other forms of art, and this fall he brings that pursuit to a higher level, storming the gates of one of New York's most prestigious art institutions.
His first solo museum show, simply titled "Jason Moran," arrives at the Whitney Museum of American Art on Sept. 20, and will be on display through Jan. 5.
The exhibition will pull from sculptures, drawings, video works and sound recordings that Moran has made over the past decade, often in collaboration with artists in other media. Installed throughout the museum's eighth-floor galleries, the show will include copies of historic jazz-club stages that Moran built for the 2015 Venice Biennale; video pieces he made in collaboration with the artists Stan Douglas, Glenn Ligon and Lorna Simpson; and works on paper showing the transferred residue of his fingers' improvisations across the keyboard.
Moran himself will also bring a variety of live performances to the museum show, presenting a series of them across the three and a half months. One of those events will be a 20th-anniversary concert featuring his trio, the Bandwagon, with Nasheet Waits on drums and Tarus Mateen on bass.
Read full article at nytimes.com