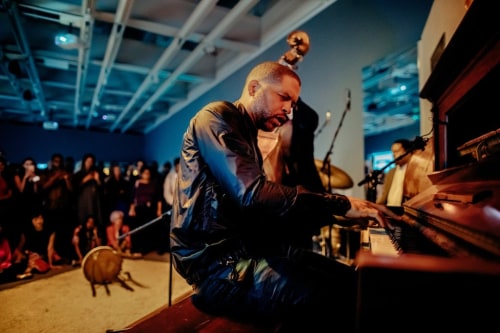 At the Whitney Museum of American Art last week, Jason Moran and his Bandwagon trio had been playing for about 10 minutes inside a replica of the stage at the Three Deuces, a bebop club from 1940s New York, when he suddenly got up from the piano and snaked through the crowd assembled inside the museum's eighth-floor gallery.
While the drummer Nasheet Waits soloed back at the Three Deuces, Mr. Moran and the bassist Tarus Mateen strode onto a different set, this one recreating the downtown '60s haunt Slugs' Saloon. Mr. Waits joined them there and the trio got moving again, from jagged-edged 21st-century blues to reworkings of Thelonious Monk.
In the rollick and riot of the group's performance, and the curious engagement of the riled-up crowd, these two stages came to life, just as the original clubs once had.
The performance christened a new exhibition, "Jason Moran," the first museum survey devoted to this MacArthur-winning pianist and conceptualist. (The show opened last year at the Walker Art Center in Minneapolis, and traveled to two other cities before arriving at the Whitney. It will be up through Jan. 5.) It is an undeniable — if unsurprising — milestone in the career of an artist who has always insisted on moving laterally between artistic practices, and up the art world's ladder.
View full article at nytimes.com