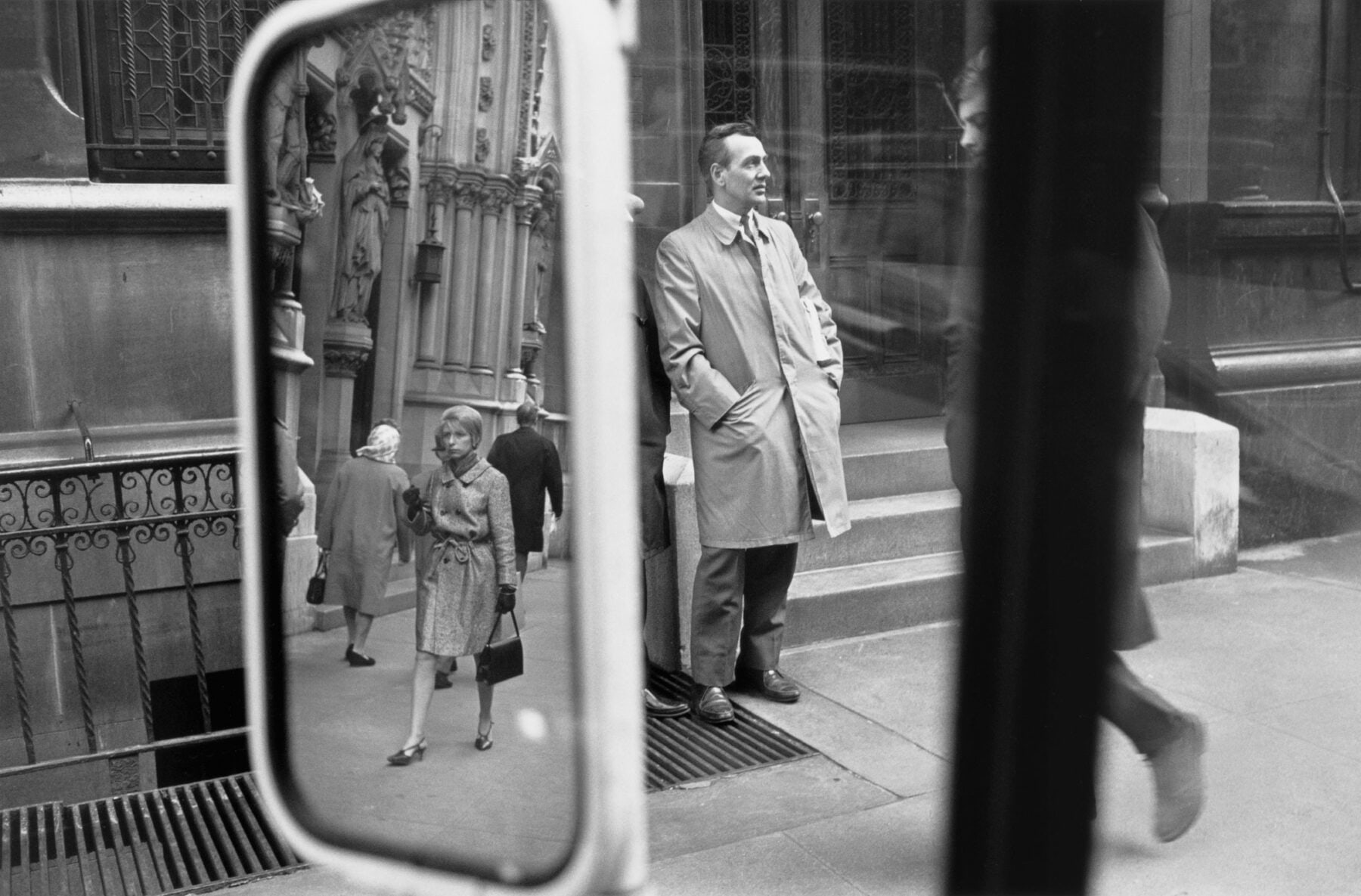 In the history of 20th-century photography in the West, one of the major paradigm shifts occurred just after the middle of the century, give or take a few years. From the early 20th century onward, what might be called the "photograph as document" aspired to universal, transcendent messages (think of the humanist documentary of Lewis Hine, Dorothea Lange, Henri Cartier-Bresson, Roy DeCarava, and scores of others). Beginning in the postwar period, with the careers of Robert Frank, Diane Arbus, and Garry Winogrand, among others, the photograph becomes an expression of the unique vision of the photographer, or "photography as sensibility." By extension, this shift also entails the photograph as an exploration of photography itself. This shift is, in many ways, the primary object of exploration in the work of Lee Friedlander.
In Lee Friedlander Framed by Joel Coen at Luhring Augustine through July 28 (with an overlapping exhibition at Fraenkel Gallery in San Francisco that closed at the end of June), the director of Fargo, The Big Lebowski, and No Country for Old Men, among other critically acclaimed films, presents an incredibly cogent version of Friedlander's singular approach to picture making. His choices do not follow any chronological order, or adhere to any specific theme or subject matter, though of course, one can't help attempting to discern the sensibility of the filmmaker in this compact survey of 51 works.
While the photographs on view span 60-plus prolific years, Coen's selection has a clear logic. The works, which Coen chose along with his wife, the actress Frances McDormand, are united by what he describes in the afterword to the show's catalogue as, "Lee's unusual approach to framing – his splitting, splintering, repeating, fracturing, and reassembling elements into new and impossible compositions." As a filmmaker, Coen wrestles with how to create atmosphere, narrative, and cinematic logic out of a sequence of images. In a much more oblique and allusive way, Friedlander has set himself a similar set of problems within the constraints of a single frame.
Read full article at photographmag.com