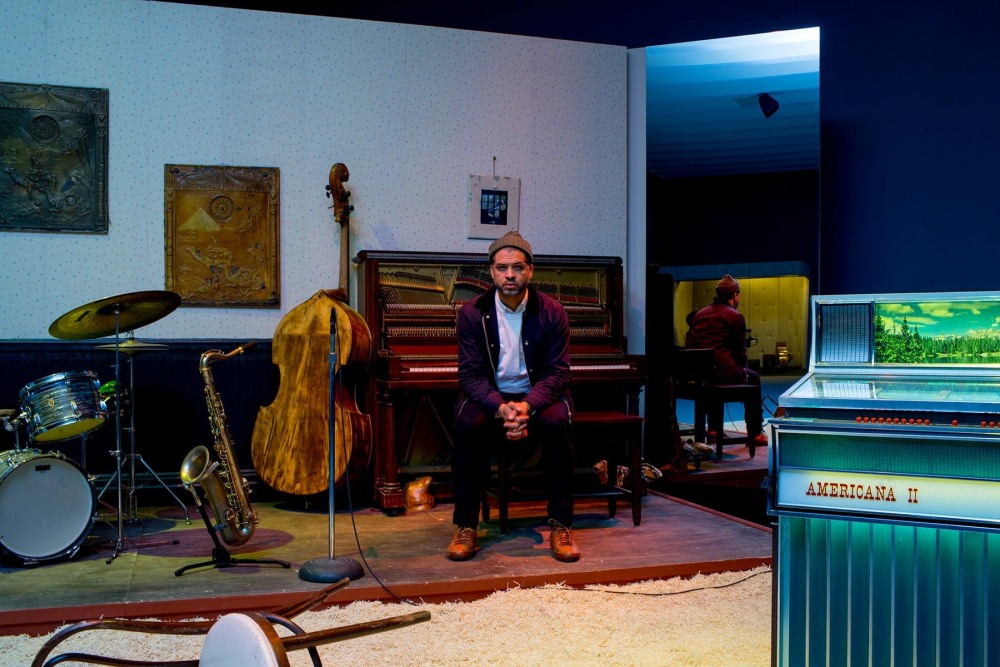 Spanning nearly two decades, five musical engagements, a residency, and his first ever commission, 2005's Milestone, Jazz pianist Jason Moran's relationship with the Walker Art Center marks a turning point this year: his first solo museum exhibition. Opened in April, Jason Moran features Moran's collaborations with other artists, including Joan Jonas, Kara Walker, and Carrie Mae Weems, as well as his own "set" sculptures—homages to iconic jazz venues from the 1920s to the 1970s that also double as stages, or sets, for concerts. Moran's creative process is informed by one of the essential tenets of jazz: the "set" for which musicians come together to collaboratively improvise, riffing off one another to create the musical experience. Further expanding on the idea of the riff or "set," Moran debuts The Last Jazz Fest with his trio the Bandwagon (Taurus Mateen and Nasheet Waits) and Ryan Trecartin, Lizzie Fitch, and Ashland Mines (DJ Total Freedom) May 18 and 19. The performance examines jazz as freedom music, a model for democracy, and a prop while championing Moran's collaborative impulse and introducing a fourth set that exists outside the walls of the gallery in the McGuire Theater.
Here, in a conversation with the Walker's Curator-at-Large Adrienne Edwards held one year before the opening of the exhibition Moran discusses Milestone, his love for conceptual art, and his inspirations and thought-processes behind creating his mixed media "set" sculptures.
ADRIENNE EDWARDS
I just realized that your show will open here one year from tomorrow. So today marks a milestone for you, Jason, which really goes back to the most important "milestone," at least in relation to this show. I've come to realize over my career in the arts that most things that I really love have been instigated by the Walker. They somehow start here and they're incubated here. In many ways, that's exactly what happened for you in 2005 with a commission through the performing arts department. Will you tell us what Milestone, the piece, was like and what your process was for that?
JASON MORAN
Sure. The invitation was pretty wild: "We're going to invite you, Jason Moran, jazz musician, to come look at the Walker Art Center collection and decide what you want to do." That's a dream. But, you know, through going into art storage and seeing all these great works—Joan Mitchell, Frank Stella, Jasper Johns, and on and on and on—there was something that started setting into my mind around conceptualism. I was really having my first Sol LeWitt experience [Four Geometric Figures in a Room] and thinking about what it meant to see those lines and feel myself within those lines and the freeness that I felt in relationship to that. Then learning about Adrian Piper and her relationship to LeWitt, I was like, "Oh my goodness. Wait, do you have Adrian Piper in your collection at the Walker?" Then the investigation of reading her writing and looking at her 1974 piece, The Mythic Being; I/You (Her), kind of unlocked a lot for me.
Read full article at walkerart.org