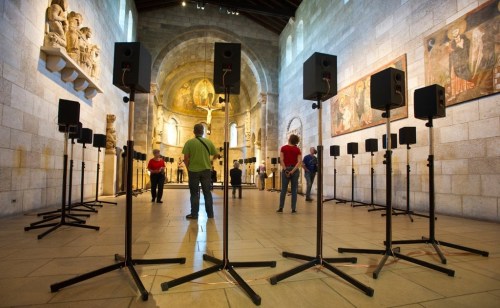 Wobbling, blissed out, a few in tears, people emerged every 12 minutes or so from the remnant of a 12th-century Spanish chapel tucked into the Cloisters museum.
Something had happened there, up on a hill at the northern end of Manhattan.
"It's too soon to talk," Margaret Cardenas said as she left the chapel.
"Too raw," said another young woman, Alyssa.
Inside the ancient chapel was the first presentation of contemporary art ever at the Cloisters: "The Forty Part Motet," an 11-minute immersion in a tapestry of voice, each thread as vivid as the whole fabric. A sacred composition of Renaissance England is rendered by the multimedia artist Janet Cardiff through 40 speakers — one for each voice in the Salisbury Cathedral Choir, which performed the piece in 2000. What started as one microphone per singer is now a choir of black high-fidelity speakers arrayed in an oval, eight groupings of soprano, alto, tenor, baritone and bass.
In the intimate space of the museum's Fuentidueña Chapel, the sound, from invisible people, as if from ghosts, feels like charged, living sculpture. Through Dec. 8, it plays in a loop all day.
Ms. Cardenas, 24, had stayed in the chapel through four full cycles, walking along the ranks of speakers, then sitting on a bench in the center.
"I'm kind of out of it — I can't articulate it," she said. "Each speaker is a different person. It's not something you think about: you feel it."
In a moment, she found the word.
"Transcendent," she said.
Read full article at nytimes.com