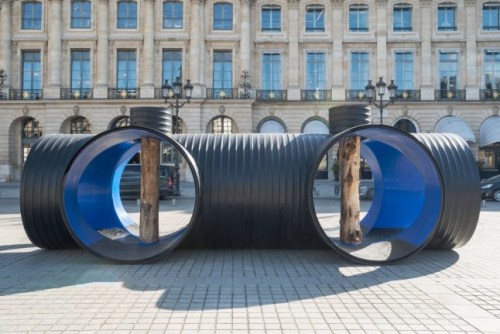 OLIVIER ZAHM — You were born Oscar Hansen on July 9, 1975, in a geodesic dome your parents built in the woods in Indianola, Kitsap County, Washington. Is that right? Can you tell us about your childhood?
OSCAR TUAZON — I grew up with the sense that a house is an experiment in living, and my parents were building a lot while I was a kid. We lived in a series of houses over the years in Indianola and rural Kitsap Peninsula, and my parents were part of a community of craftspeople, writers, and poets. A lot of them were out there in the woods experimenting with architecture.
OLIVIER ZAHM — Can you describe your memories of the American northwest?
OSCAR TUAZON — When grunge broke, I was in high school learning the Lushootseed language with the few native speakers who were still alive. Lushootseed has carried the traditions and literature of the people of the Salish Sea for tens of thousands of years, and the way it has done that is by always remaining contemporary — literally, because in the Salish language everything takes place in the present tense. The stories are efficient, funny, violent, and sometimes weird. They're brief descriptions of complex family dynamics and sheer survival, kind of like the music that was coming out of Seattle in the '90s. Northwest time is deep time. We were all in bands — I think looking for ways of compressing time into noise.
OLIVIER ZAHM — Commenting on your work Une Colonne d'Eau [Water Column], a large public sculpture on Place Vendôme in Paris and consisting of thermoplastic pipes, you said, "A sculpture is a hole in the world." What did you mean by this?
OSCAR TUAZON — Sculpture is a space of imminence, a model of the possible, a potential space. And at Place Vendôme, this was very clear — these are spaces that people enter into, almost rooms, intimate vacant space in the center of the city, a series of voids. Sculpture makes a space; you enter into it. I make space for people. The material itself, the actual components of our water infrastructure, are these enormous thermoplastic pipelines, so the scale relationships are immediately physical. But these components are elements of a much larger water collection and storage system. We face mounting crises in providing the basic human right to clean water, so when you walk through these pipelines you experience the scale of civic planning for sustained drought, the scale of floods and hurricanes, extreme weather events brought on by global warming. Sculpture can do this — make a simple model of complex space.
Read full article at purple.fr