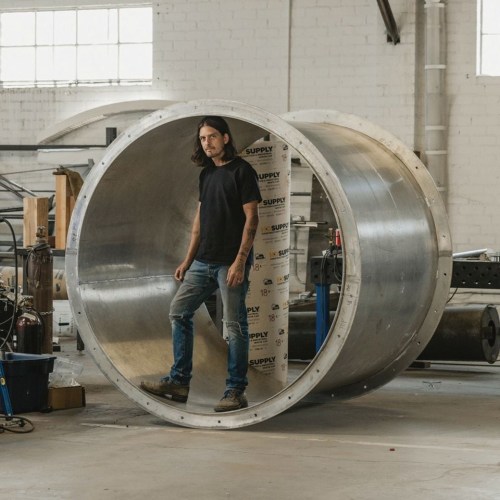 The Los Angeles artist, who made one of the standout works at this year's Skulptur Projekte Műnster, is heading for the great outdoors.
The US artist Oscar Tuazon connects the functional possibilities of sculpture to the politics of public art, exploring the confrontation between industry and ecology, the urban and the natural. Two events this year represented a clear synthesis of the various ideas Tuazon has developed in his work over the past decade. In April, he opened the gates to the yard next to his Los Angeles studio and hosted a hip-hop concert by musicians he had met several months earlier at Standing Rock, a camp set up in North Dakota by protesters against the Dakota Access Pipeline. By the entrance, he placed a section of pipe six feet in diameter, part of a previous work. A cast iron sculpture was filled with wood and lit, making an improvised fire pit, and a stage was built for performers.
Around the same time, Tuazon was completing his sculpture Burn the Formwork, which was unveiled at Skulptur Projekte Münster in June. The concrete structure—perhaps the most celebrated work of Tuazon's career—combines the interactivity of a stage with the comfort of a fireplace. The artist has also been converting a building in the far north-west of Washington state into a rural home.
The Art Newspaper: Tell us about your cabin in the woods.
Oscar Tuazon: It's on the Hoh River, a very protected river in the Olympic Peninsula, about four hours from Seattle. It feels like the end of the Earth. When my wife Dorothée got it, six years ago, the house was a big shed. Whoever was building it died before doing anything to the interior. There was no road to the house, no electricity, no water. It's in a region where it rains 300 days a year, and it's right next to a river, but the previous owner had drilled a well and come up with nothing. So we installed a rainwater collection system. Now it's habitable, but it's still basically a big shed.
Read full article at theartnewspaper.com