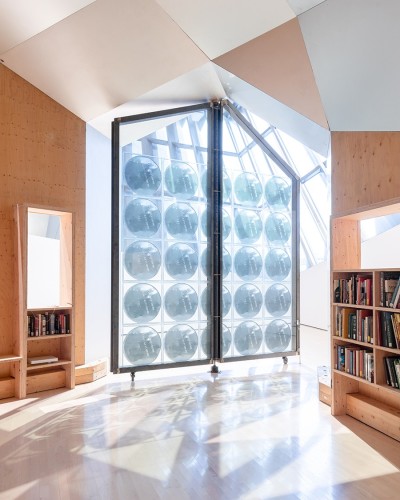 The artist's installation, on view at the Broad Art Museum at Michigan State University, draws from the legacy of the permaculture movement and the lessons of Flint.
Water dominates both the ecosystem and the artistic imagination in Oscar Tuazon's 'Water School'. In 2018, Tuazon founded the Los Angeles Water School (LAWS), an educational centre espousing the view that water is the connective tissue between people and their surroundings. While LAWS remains active in downtown LA, Tuazon has since reprised his 'Water School' in Nevada, Minnesota and Michigan – three regions where the politics of water are often divisive. The latest incarnation, at the Eli and Edythe Broad Art Museum at Michigan State University, presents a collection of Tuazon's prototypes for sustainable living along with ephemera, such as architectural drawings by R. Buckminster Fuller and copies of The Mother Earth News magazine, tracing the 1960s and '70s emergence and zenith of the US permaculture movement.
Zome Alloy (2016), the show's centrepiece, is a large, multi-room polyhedral structure made of unfinished wood modelled on the Zome House (1971) by Steve Baer, a pioneer of passive solar architecture. Baer's Zome House, a modified version of Fuller's geodesic domes, utilized drums of water and adobe architecture to absorb heat without a carbon footprint. Tuazon's Zome Alloy serves as a study centre within the MSU Broad, containing books from the MSU library on topics ranging from ecology to Earthworks to anthropology.
Surrounding Zome Alloy, and in a smaller adjacent gallery, are examples of passive solar architecture Tuazon based on designs in Dome Cookbook, Baer's 1968 treatise on off-the-grid living and DIY sustainability. For Curtain Wall (2013), two panes of glass encase polystyrene beads that insulate a home at night and drain out into a steel drum in the morning. Suspended from the museum's ceiling, Rainbender (LAWS) (2018) is designed to capture water in regions with less than 38 centimetres of rain annually. Tuazon's 'water window' is a trapezoidal glass monolith housing a modernist grid printed with a circular pattern (a reference to Baer's original design), collecting heat and filtering light from the museum's windows into the Zome Alloy.
Read full article at frieze.com