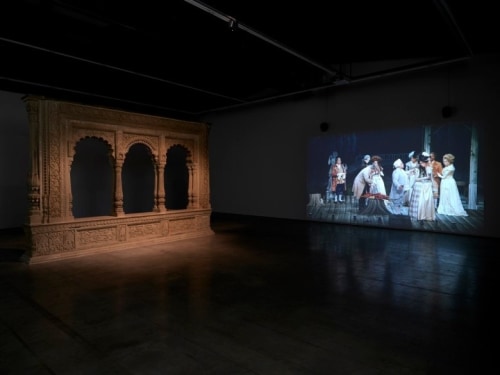 Since last September, Luhring Augustine Bushwick has hosted The Pleasure Pavilion, a series of nine three-week shows in which gallery artists are in dialogue with a surprising centerpiece: the tawny, sandstone-and-brick facade of a late 18th- or early 19th-century Indian pleasure pavilion.
The impressive, arcaded facade, with intricately carved columns and floral motifs, stands upright in the middle of the gallery; it is a remnant of a Mughal-style pavilion, housed in a palace complex, once used for, well, pleasure, including music, dance, and communal revelry. It is a fascinating accompaniment to Icelandic artist Ragnar Kjartansson's enthralling video Bliss (2020), projected on one wall. The video is of a 12-hour performance, likewise set in a garden, albeit an ersatz one with a painted backdrop, by opera singers and classical musicians in which the cathartic, extraordinarily pleasurable final three-minute section — with themes of forgiveness, happiness, transcendence, and grace — of Mozart's foible-filled opera The Marriage of Figaro is repeated over and over. This opera is from 1786, making it roughly a contemporary of the facade.
The pleasure pavilion facade works wonders to bring out the details of the performance. With its ornate decorations, all those flourishes and whorls, it responds to the elaborate costumes of the performers; it also echoes the modest gazebo with a portico entranceway in the stage set.
Commissioned by Performa 11, the performance Bliss debuted at the Abrons Art Center in New York in 2011 and was a largely improvisational affair. Finding local professional opera singers willing to perform Mozart for 12 consecutive hours proved exceedingly difficult. "New York opera singers were pretty close to impossible to get," Kjartansson told me in an email. "Singing 12 hours back then sounded like hara-kiri to them."
Read full article at hyperallergic.com