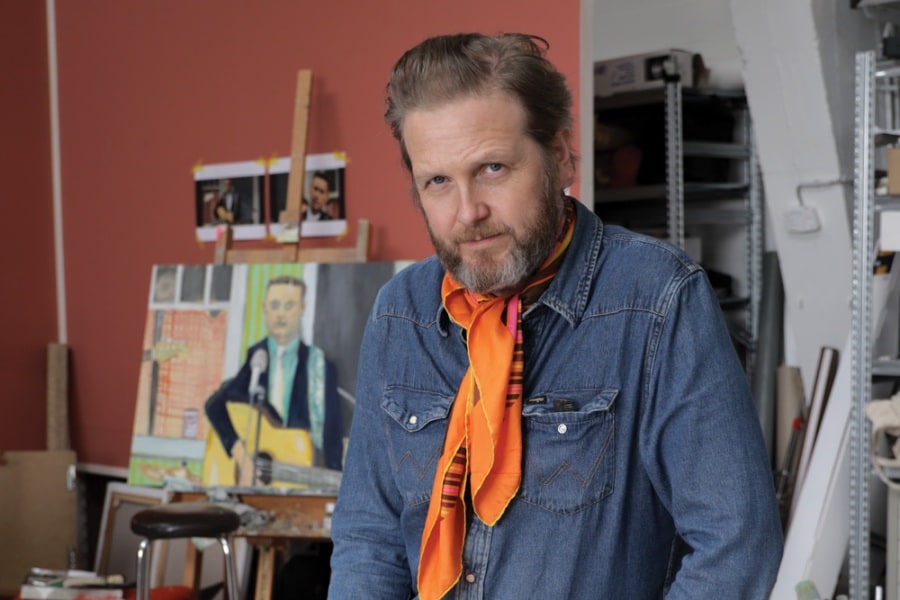 I think we have wrapped up the interview but, in spite of the salty rain coming off the North Atlantic, Ragnar Kjartansson insists on giving me a tour of his hometown. 'It's really like a village here,' he says as we climb the hill leading into town from Reykjavik's docks, and I soon see what he means. Within 90 seconds, Kjartansson has been flagged down by two men on the street. He indicates that I don't know Icelandic, and everyone switches to English. One man gesticulates towards a weathered old Defender parked on the curb. 'That's my car!' exclaims Kjartansson, who these days mostly gets around town on an electric scooter. 'I sold it to him! How is she?' The car runs fine, apparently, but it smells bad, the roof leaks.
Everyone collapses into laughter and trades a few back-slaps. And then we're on our way again, up Ægisgata towards the Catholic cathedral, where Kjartansson volunteered as an altar boy. (He was brought up Protestant but, given how few Catholics there were at the time, nobody was in a position to be picky.) The imposing structure combines Gothic Revival with trappings of an art deco vernacular largely dreamed up by its architect, Gudjon Samuelsson (1887–1950). In the years before the country became an independent republic in 1944, Samuelsson became its state architect, although it has clearly taken more than one master builder to forge a concrete sense of Icelandic-ness. 'I remember it so well when my parents and my grandparents' generation were all about creating an identity for this country,' Kjartansson told me earlier.
The Reykjavik where he grew up in the 1980s was, he says, 'pretty bleak. It really felt like this place at the end of the world, and you were like, "Wow, wouldn't it be cool to be a proper country?" It was a land with an inferiority complex [but it had] a kind of megalomania.' Born to actor parents in 1976, over the course of his lifetime Kjartansson has seen Iceland transition from Arctic Circle backwater to Nordic arts powerhouse.
Read full article at apollo-magazine.com